PSUs for Midrange Systems
Our midrange system opens up a lot more in the way of potential power supplies, as there are far more manufacturers building 400W to 500W PSUs. Our idle power consumption in this case is 168W, which is quite high when compared to the 120W a high-end system would have used a few years back (i.e. AMD Athlon 64 4000+ and NVIDIA GeForce 7800 GTX under full load). However, times change and we see increased power requirements along with performance improvements.
Our selection of power supplies uses the same criteria as before. We will also see how our entry-level power supplies and all this sort of system.
Cooler Master Silent Pro (500W) actively cooled

Corsair HX520W (520W) actively cooled

Corsair VX450W (450W) actively cooled

Enermax Pro82+ (585W) actively cooled

Enermax Pro82+ (625W) actively cooled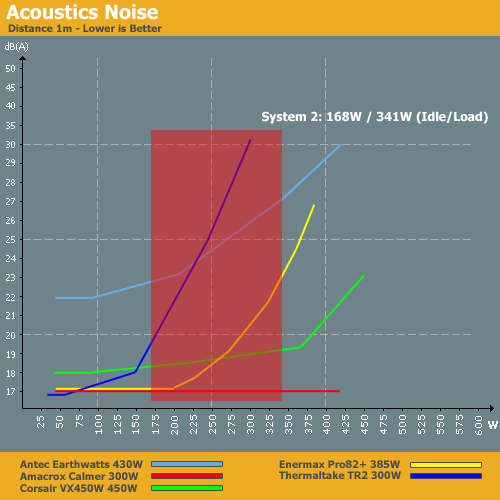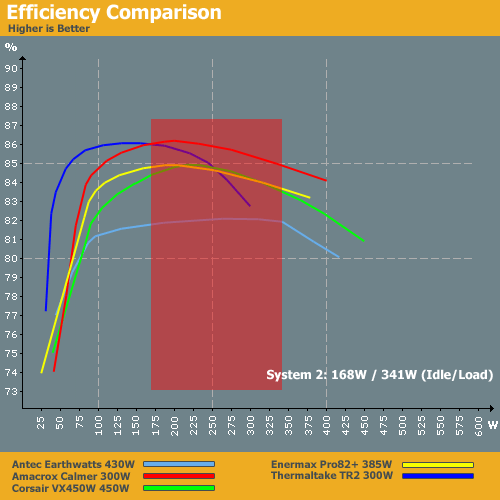 In terms of efficiency as well as the ability to supply sufficient power, all of the power supplies are able to run this midrange setup except for the 300W Thermaltake unit. The Antec Earthwatts has been around for a while, so it's not surprising that it doesn't perform as well as newer models, but it still delivers decent if not great efficiency. Noise levels are a different matter, and we would be inclined to avoid most of the entry-level PSUs. If noise isn't a consideration, all but the Antec will work; however, the Corsair VX450W performs best out of these units in so we will carry it along to the next level and include it with the midrange offerings.
Efficiency is Not the Issue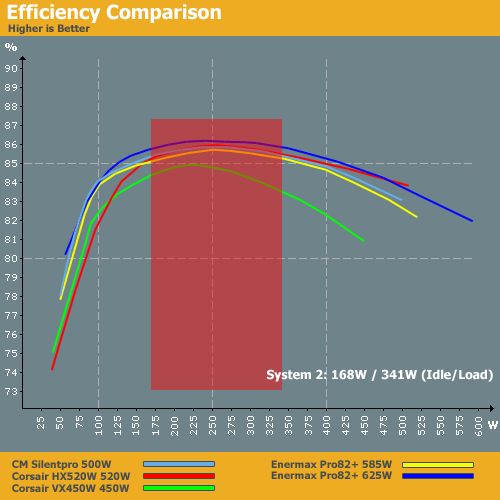 With the addition of some higher performing power supplies, efficiency clearly shouldn't be the overriding concern for a computer like our midrange system. The Corsair VX450W doesn't look as good in this graph, although 83% efficiency certainly isn't anything to cry about. The newer models all reach efficiency of around 85% to 86% throughout the midrange system load. Comparing the two scenarios, outside of PSUs that simply can't provide enough power it's not necessary to move up to a higher performance power supply. You want to look at other aspects such as features, warranty, and noise levels before making a decision.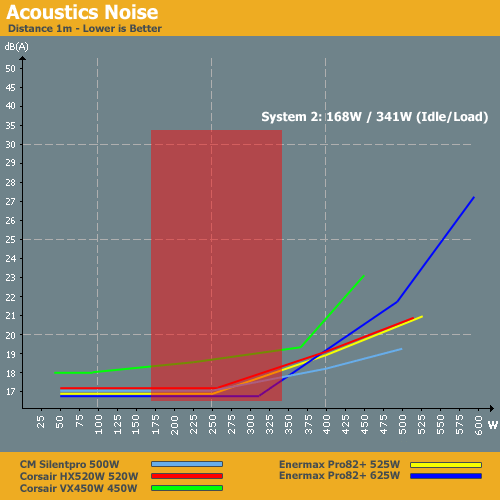 In terms of noise levels, all of these units perform very well and can provide a quiet computing environment. We also see a clear separation between the entry-level PSUs in the midrange PSUs in this chart, since the midrange units are running a 75% load at worst. Again, if you've had the mindset that 600W and higher PSUs are required for modern midrange systems, the above charts should help dispel that myth. If you can find a good quality 400W PSU, it can easily power a midrange system. However, 500W PSUs generally make the best fit, as they provide optimal efficiency and lower noise.