Making Compromises
What we have learned from the preceding PSU example? A higher rated power supply will run much quieter if it runs at less than 50% of its rated output, but you don't want the rating to be too high or else efficiency will drop. Now we come to the more complicated part of choosing the right power supply for a new system. You need to make compromises between achieving optimal efficiency and maintaining a quiet working environment. If that is your goal, our high-end sample system is a perfect candidate for a 900W power supply like the Cooler Master UCP 900W. Efficiency is very good throughout the operating range and noise levels will be far lower than the ambient noise from the rest of the system. What we want to do now is go through the three sample systems and select an appropriate power supply.
Our entry-level system has very low power consumption, and unfortunately most power supply manufacturers completely ignore this market segment. Our goal today is to focus on quality power supplies that are readily available worldwide, and most manufacturers start with 500W models and go up from there. That limits our choices, but there are still a few options.
We can only be sure about efficiency if we've tested a power supply, so we will confine ourselves to such units. (Note that we have not necessarily published reviews on all of these power supplies, but we have tested them.) Our entry-level system uses an ATI Radeon HD 3650 graphics card, which means we don't need a PEG connector; that makes our choices a little easier. We'll focus on the following offerings:
Thermaltake TR2 QFan (300W) actively cooled

Enermax Pro82+ (385W) actively cooled

Amacrox Calmer 560 (300W) passively cooled

Corsair VX450W (450W) actively cooled

Antec Earthwatts (430W) actively cooled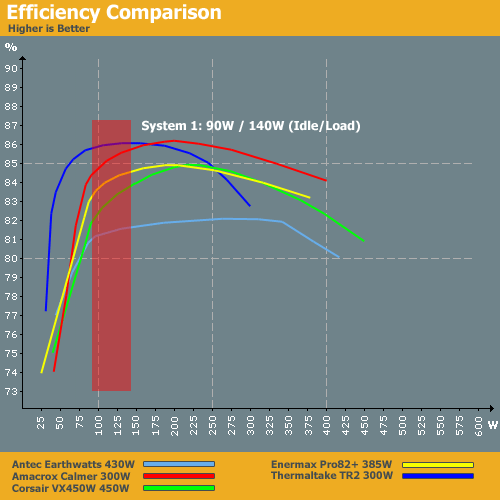 In the range of 90W to 140W, it's little surprise that the best efficiency is achieved by the two power supplies with the lowest rating (300W). The Thermaltake TR2 QFan places first in our results, and second place goes to the Amacrox Calmer 560. The Enermax takes third place, Corsair is in fourth, and Antec ranks at the bottom of these five options. If it were possible to find a 250W power supply with similar performance at a lower price, that would be even better, but it's just not possible these days. That takes care of efficiency, but let's look at noise levels.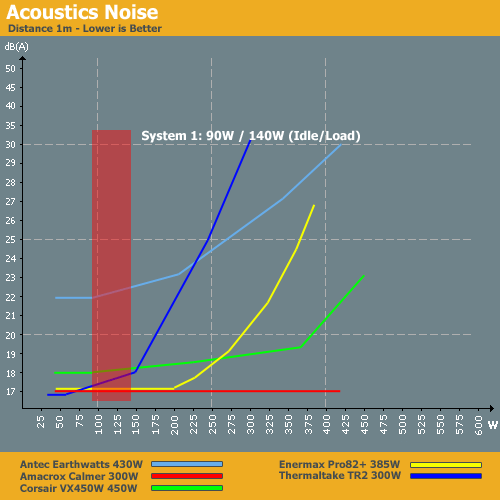 In the same range of 90W to 140W, the Amacrox Calmer 560 and Enermax Pro82+ are the best performers, with the overall crown going to Amacrox, since the Calmer 560 is passively cooled. The Thermaltake TR2 QFan and Corsair VS450W aren't too far behind, at only 18 dB(A) max, while Antec brings up the rear again.
Looking at the above two charts, the Thermaltake TR2 QFan is a perfect candidate for our entry-level system. However, if you instead prefer silence, we would go ahead and pick up the Amacrox Calmer 560. The HD 3650 is also available with passive cooling, so you will never have to complain about computer noise. In fact, I have that exact setup and use it daily as my system for web surfing and writing articles.
As the graphs show, there's still plenty of performance available, so we could even make a few system upgrades down the road. In truth, we could run this sort of system with a 200W power supply, but there are no quality PSUs available in that range. The desire for quality is what led us to select the Amacrox, Thermaltake, Enermax, Corsair, and Antec offerings, as they all provide excellent voltage regulation and overall quality.