There have been numerous product sessions at IDF this week, some sexy, some interesting, and some about as exciting as watching Uncle Burt fall asleep in the recliner. Certain technical sessions on subjects like i7/X58 had long lines of people waiting anxiously to see and learn about the "It" product at IDF 2008, while other sessions on Intel's new SSD, Larrabee, and CE3100 SoC products generated a great amount of interest and attendance.
While those sessions were interesting. exciting to some degree, and even thought provoking at times, we noticed one particular session on the calendar that became center point on our radar screen. It had a very bland title that could easily be overlooked, "Enhancing the Media Experience with Intel Integrated Graphics", but we knew it really meant a G45 overview or so we hoped. Turns out, we were almost right on the money.
We wanted to understand more about this media experience enhancement offering, but most of all we wanted to get some answers about Intel's latest IG chipset. You know, the chipset that was late to market, promised a change in how we would view/experience high definition content, offer a superior gaming experience compared to previous IG solutions, and generally solve world hunger problems. We knew most of these attributes were marketing speak, but we have been very excited about Intel's first IG solution that offers hardware accelerated playback of high-definition content.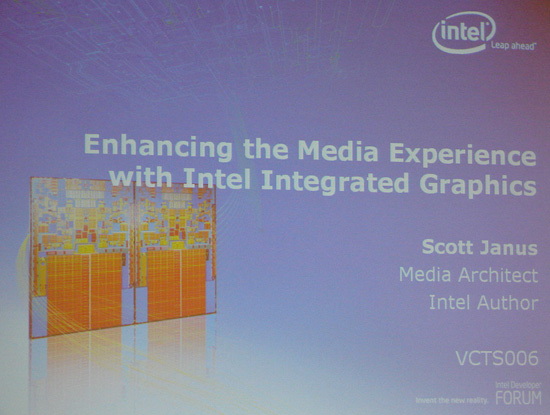 Why might one ask is an IG chipset so interesting to an editorial group that tends to be on the bleeding edge when it comes to hardware choices? Well, most of us are HTPC users and chipsets that offer accelerated high-definition playback, multi-channel LPCM output over HDMI, and a low-power envelope sounds just as sexy to us as the upcoming X58 chipset. However, our primary reason is that we wanted face time with the personnel responsible for the G45/GS45/GM45 series of products.
You see, the last three weeks have been extremely frustrating for us after receiving our sample G45 motherboards. We will not dwell on all of our problems as that conversation is saved for the chipset launch article. Suffice it to say, we have encountered every problem ranging from 1080P/24Hz support, lack of receiver repeater capabilities, compatibility problems with BD software playback programs, and the list just goes on. After numerous phone calls, emails, and meetings with Intel support personnel over the past few weeks, we finally had the opportunity to meet them in person.
We had our knives sharpened and ready as we wanted answers or there was going to be a fight. But before we could discuss and address our problems, there was this matter of sitting through a presentation. One that we just wanted to skip through so we could get some answers. Turns out the presentation answered several of our more pressing questions but left just as many unanswered at this point.
So without further delay, here is a recap of the presentation and some commentary about where Inel is at with the G45 product.