Power Consumption
NVIDIA's idle power optimizations do a great job of keeping their very power hungry parts sitting pretty when in 2D mode. Many people I know just leave their computers on all day and generally playing games 24 hours a day is not that great for the health. Idle power is important, especially as energy costs rise, and taking steps to ensure that less power is drawn when less power is needed is a great direction to move in. AMD's 4870 hardware is less power friendly, but 4850 is pretty well balanced at idle.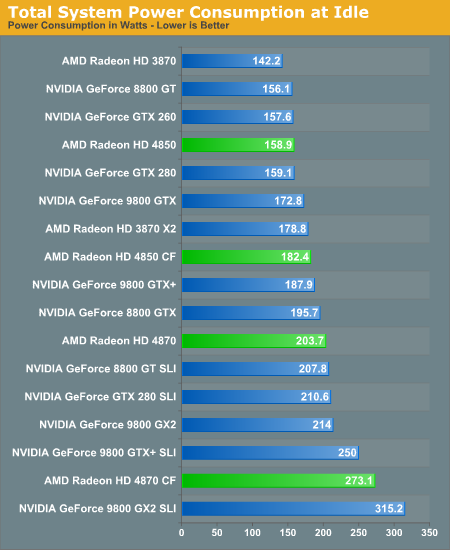 Moving on to load power.
These numbers are peak power draw experienced over multiple runs of 3dmark vantage's third feature test (pixel shaders). This test heavily loads the GPU while being very light on the rest of the system so that we can get as clear a picture of relative GPU power draw as possible. Playing games will incur much higher system level power draw as the CPU, memory, drives and other hardware may also start to hit their own peak power draw at the same time. 4850 and 4870 CrossFire both require large and stable PSUs in order to play actual games.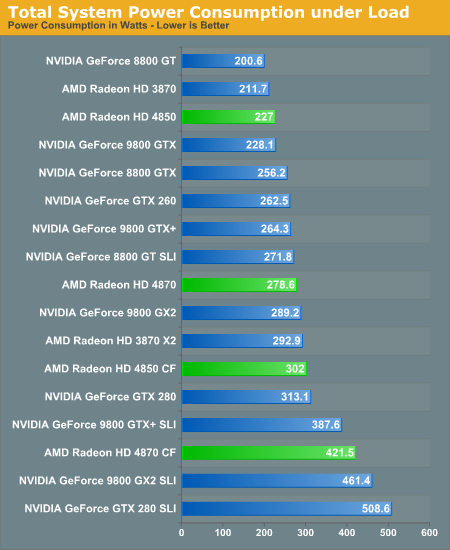 Clearly the 4870 is a power junky posting the second highest peak power of any card (second only to NVIDIA's GTX 280). While a single 4870 draws more power than the 9800 GX2, quad SLI does peak higher than 4870 crossfire. 4850 power draw is on par with its competitors, but 4850 crossfire does seem to have an advantage in power draw over the 9800 GTX+.
Heat and Noise
These cards get way too hot. I keep burning my hands when I try to swap them out, and Anand seems to enjoy using recently tested 4800 series cards as space heaters. We didn't look at heat data for this article, but our 4850 tests show that things get toasty. And the 4870 gets hugely hot.
The fans are kind of quiet most of the time, but some added noise for less system heat might be a good trade off. Even if it's load, making the rest of a system incredibly hot isn't really the right way to go as other fans will need to work harder and/or components might start to fail.
The noise level of the 4850 fan is alright, but when the 4870 spins up I tend to glance out the window to make sure a jet isn't just about to fly into the building. It's hugely loud at load, but it doesn't get there fast and it doesn't stay there long. It seems AMD favored cooling things down quick and then returning to quiet running.