Recently, we were in search of a new PC case to fulfill the role of arduous performance oriented motherboard review testing. We decided to step up from our trusty Lian Li PC75 to something more current. We have been looking for a something that is a little more friendly to the continual chopping and changing of vital system components that we subject our lab PC cases to at least a couple of times a week. Naturally, as previous Lian Li case owners we were drawn to their newer offerings, especially the revised V-Series that was unveiled at CeBIT in Hannover earlier this year. There, Lian Li publicized a few shake-ups to their entire consumer case line-up; notable additions to the vast lineup are gaming cases known as the Armorsuit series and new cases for the HTPC buffs among us.
For the V-series of cases, most of the revisions are centered on functionality rather than radical changes in aesthetics. The clean look that is synonymous with Lian Li remains intact. Internal graphics card holders, hard drive cages, and intake fans all receive a work over to ensure the ease of use of these components remains in line with the demands of today's user. The new V-series features standard ATX motherboard tray orientation while the "upside-down" ATX motherboard tray is still available in the V "Plus II" series of cases. At the top of the list to replace our aging and battle worn PC-75 is the PC-V2110 (ATX). It's a full tower case offering plenty of room for us to go wild without cutting ourselves or spitting out several new swear words every time we swap components.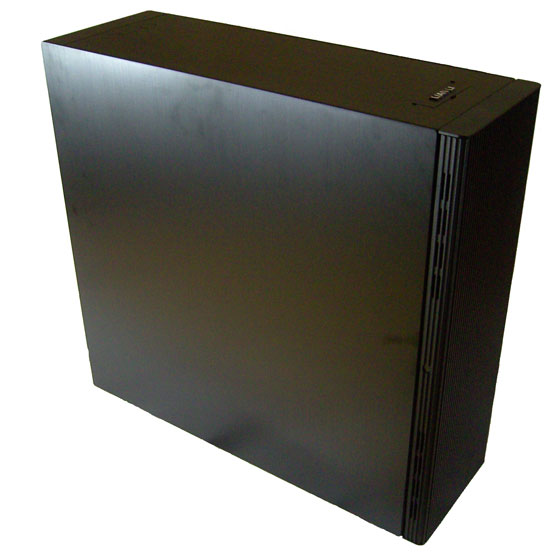 Lian Li is one of those companies that enjoys fierce user loyalty. It's a situation where if you've owned a case from them in the past, the first port of call for a new purchase is likely to be another case from Lian Li. Make no mistake, the PC-V2110 is an expensive case aimed at the connoisseur; we don't know if we qualify as real life connoisseurs of all things fine, but it's nice to delude ourselves that perhaps we are.
At this end of the spectrum, ease of use, construction quality, airflow, expansion potential, and overall aesthetics rule, not necessarily reflecting return per dollar of cost. If a case can do all of the above well while managing to still look good, we have ourselves a winner. We felt it only fair to put our thoughts down on paper today to reveal what we think is good and what could perhaps be improved.
With the initial pleasantries out of the way, let's move on to the nitty-gritty of specifications and features.