Specifications
Lian-Li PC-V2110 Specifications
Case Size
"Super Full Tower"
Dimensions
210x620X620 (W, H, D)
Front Bezel Material
Aluminium
Color
Available in Black or Silver
Side Panels
Anodized (Brush Effect), Windowed Panel available upon request
Weight
14KG

Body Material
Aluminium
5.25" External Drive Bays
7 external 5.25" bays
3.5" Ineternal Bays
8 Internal 3.5" bays
Expansion Slots
8 Rear Exapnsion Slots
Motherboard Compatbility
E-ATX,ATX, M-ATX
Front Case Fan
14cm Ball Bearing, Selectable speeds = 800, 980 and 1180 RPM
Rear Case Fan
12cm Ball Bearing, Selectable speeds = 1020, 1240 and 1500 RPM
Top I/O Panel
USB2.0 x 4, IEEE1394x1, E-SATA x 1, AC97+HD Audio
.
Case Layout
The chassis and panels are aluminum alloy, helping to keep weight to a minimum, and at a price point of ~$385 we'd expect no less. Aimed at those of us who prefer a minimalist look with straight lines, the PC-V2110 does not disappoint. The panel finish is brushed aluminum anodized in a choice of black or silver. A side effect of having the black finish is that finger prints show up like beacons from afar and will probably keep most of us reaching for a polishing cloth frequently, as we did through the course of testing the case. Unlike its PC-V2010 brethren, which offer a full-frontal look of the drive bays, the PC-V2110 keeps things hidden by means of a sturdy ridged front door. The door includes a lock and two keys for the security conscious.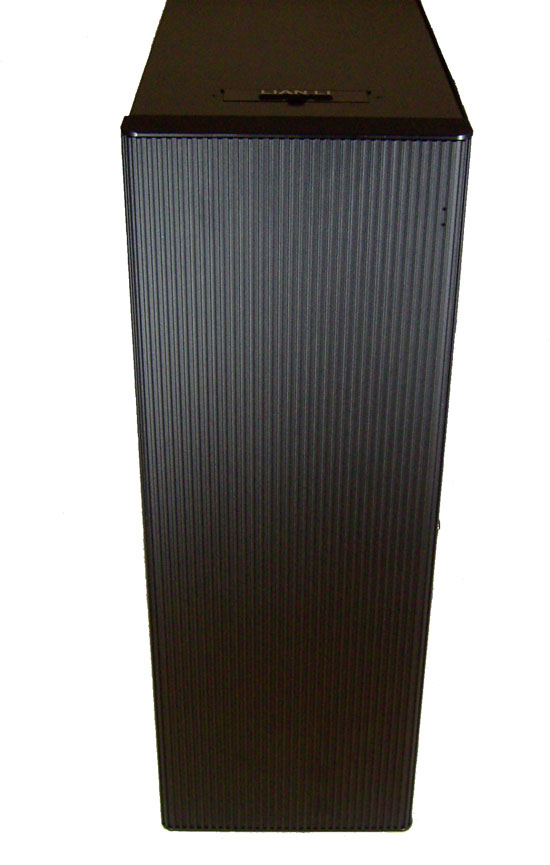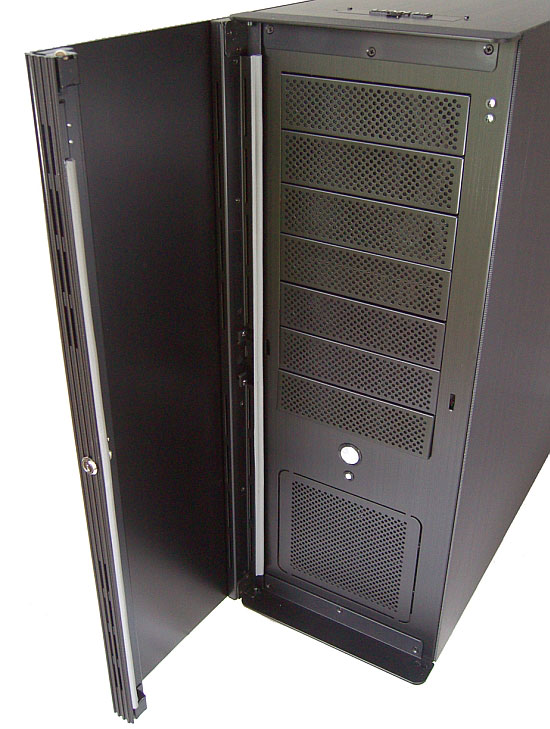 The door latches by means of ball bearings that slot securely into grooves in the top and bottom door brackets. Two rubber insulation strips on the door help to keep vibration and rattling to a minimum when fan speeds are ramped up. Users may also reverse the door mounting so that it opens from left to right if they wish, as the brackets are easily removed and reversed by means of six Phillips head screws. All front 5.25" bay panels are vented to allow for air intake, and they have small removable and washable nylon grills installed to prevent dust buildup within the case. The lowest square shaped grill in the picture is the inlet for the front 14cm fan.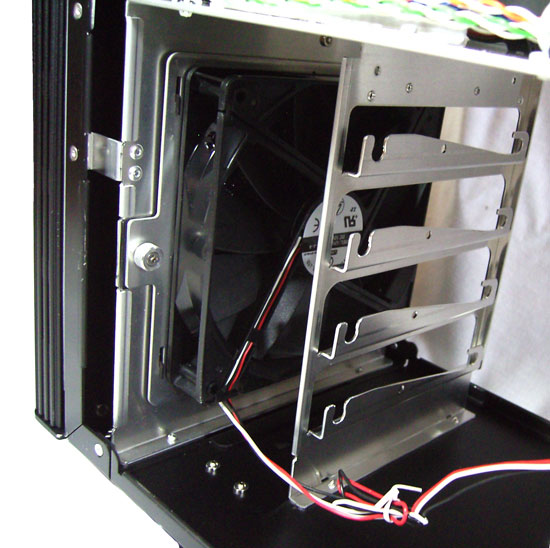 Both front and rear fans connect to a fan controller PCB located above the rear exhaust fan. An additional header is available for the supplied memory/chipset cooling fan and bracket. The front fan is easily removable for dust filter cleaning by means of two thumbscrews, though you will have to remove both side panels first. Removing the panels is quite easy as each panel features a single screw retention mechanism. However, we did find the lower door bracket on both panels has a very tight grip on the lip of the case; a smearing of Vaseline should help with removal if you plan to swap components frequently.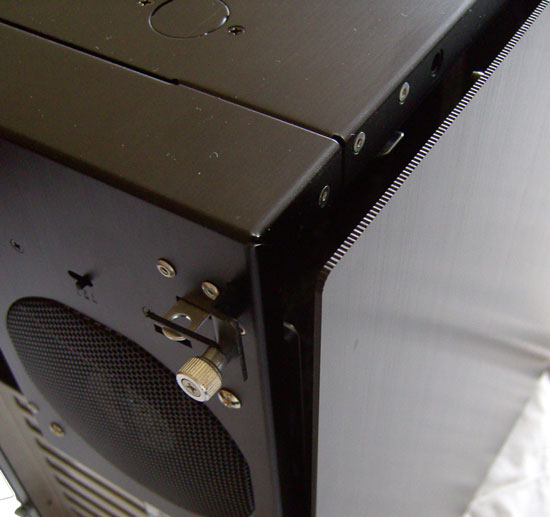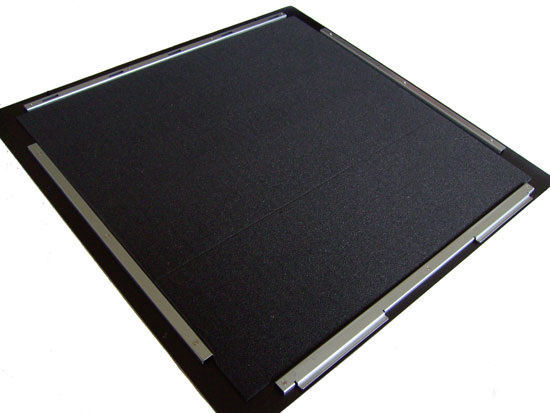 A significant portion of case weight comes from the side panels, which are thick aluminum with a brushed anodized finish. Sound deadening material has been applied to both panels and the top panel of the case, which should help reduce overall system noise. There are no elaborate or garish patterns on the side panels; instead, a decorative serrated edge on the panels complements the clean look of the case.
Silver castors add some mobility to the case and a touch of aesthetic class to the overall look. The castors do not swivel; rather a fixed position is used meaning movement is limited to forwards and backwards rolling (though you can slide the case to turn it a bit if necessary). The rear castors feature a brake mechanism so that the case does not roll freely once it's in the desired location.