The Return of Hyper Threading
While Nehalem is designed to scale to up to 8 cores per chip, each one of those cores has the hardware necessary to execute two threads simultaneously - yep, it's the return of Hyper Threading. Thus our quad-core Nehalem sample appeared as 8 logical cores under Windows Vista: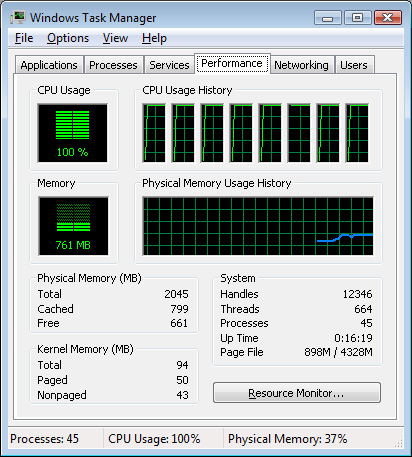 Four cores, eight threads, all in a desktop CPU
Note that as in previous implementations of Hyper Threading (or other SMT processors) this isn't a doubling of execution resources, it's simply allowing two instruction threads to make their way down the pipeline at the same time to make better use of idle execution units. Having 8 physical cores will obviously be faster, but 8 logical (4 physical) is a highly power efficient way of increasing performance.
We took Valve's source-engine map compilation benchmark and measured the compile time to execute one instance (4 threads) vs. two instances of the benchmark. The graph below shows the increase in compilation time when we double the workload: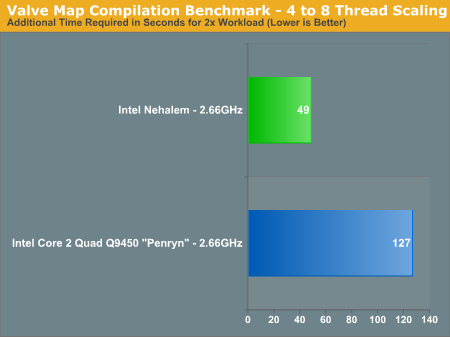 While the 2.66GHz Core 2 Quad Q9450 (Penryn) takes another 127 seconds to execute twice the workload, the 2.66GHz Nehalem only needs another 49 seconds. And if you're curious, this quad-core Nehalem running at 2.66GHz is within 20% of the performance of an eight-core 3.2GHz Skulltrail system. Equalize clock speed and we'd bet that a quad-core Nehalem would be the same speed as an 8-core Skulltrail here. The raw performance numbers are below: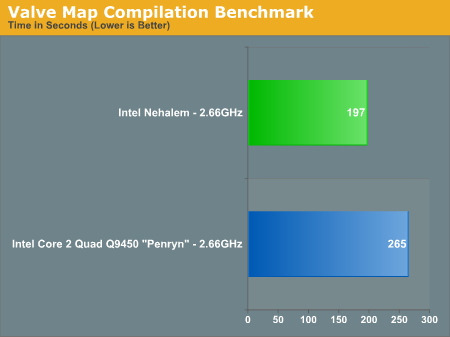 We couldn't disable Hyper Threading so we reached the limits of what we were able to investigate here.