Final Words
Ever since the introduction of Intel's Centrino brand, manufacturers have attempted to duplicate its success by pushing the importance of a platform. Today AMD has come the closest I've seen since then by, at least with its AMD GAME Ultra specification, putting together a list of components that can actually guarantee a good experience.
The initial goal of Centrino was that users could go out and purchase a notebook with the Centrino logo and know that they were getting a decent machine, regardless of who made it. It would have wireless, good performance and good battery life, all things that are very important to notebook users. The AMD GAME! program has similarly lofty goals; AMD wants anyone who purchases a GAME! PC or a GAME! Ready peripheral to have a good overall gaming experience.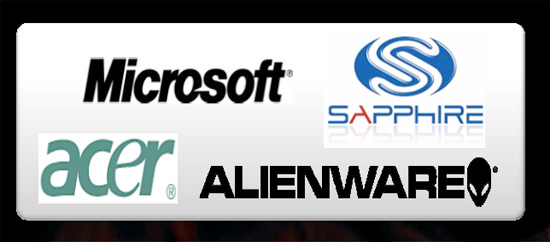 These are the only logos AMD was allowed to use in support of AMD GAME! but we're told to expect retail avability of GAME! PCs in the second half of 2008. Online system builders like Alienware and Velocity Micro should be shipping GAME! PCs immediately.
However, Centrino was successful not only because of good hardware choices, but a multi-billion dollar marketing campaign by Intel. The concern is that AMD won't have what is necessary to make AMD GAME! a success. The logo program is a good starting point, but I can't help but wonder if something like this won't truly take off until Intel tries its hand at it. Wait for Larrabee and we may see just that.