I've been meeting with AMD a lot these days; in fact, one day last week I actually had to reschedule two separate AMD meetings because I was playing host to a few reps from, uh, AMD. With all of the negativity surrounding Phenom and a relatively quiet graphics division, it's tough to remember that I was actually excited about the ATI acquisition back when it happened. These days AMD is beginning to take shape as a total platform provider, thus when I talk to them it can be about everything from CPUs and chipsets to graphics - hence the plethora of meetings.
AMD has all of the ingredients to be a major player in the PC business. It arguably produces the best integrated graphics chipset around, is at least competitive on the discrete graphics front and, well, produces x86 CPUs. And today AMD is attempting something very industry leader-like.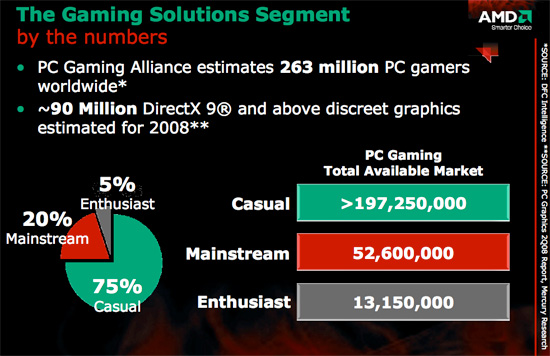 AMD views the PC gaming market as consisting of three segments: casual gamers, mainstream gamers and the enthusiasts. Casual gamers are the largest portion of the market and generally play things like Solitaire or online Flash games. The Enthusiast market is dominated by those who are already investing in good gaming PCs and have some of the highest requirements for performance/visual quality. The mainstream gaming market, however, is composed of those users who want to play more demanding games on their PCs but aren't always aware of what they need to do so.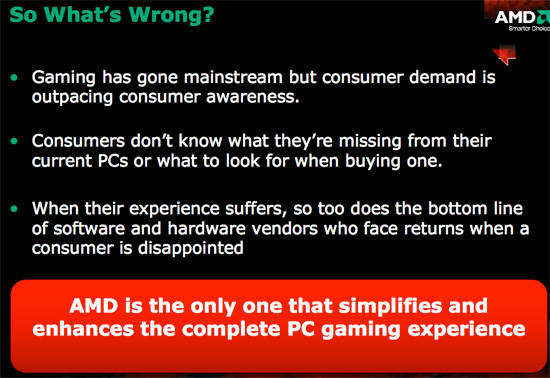 In order to help address the needs of this mainstream gaming market, AMD has established a new logo program called AMD GAME!. The idea behind AMD GAME! is to guarantee that anyone buying a PC with this logo will have a good overall gaming experience with it.