Performance Expectations
Intel revealed some early performance data of Atom comparing it to an ARM11 core and using web page render times as the benchmark of choice: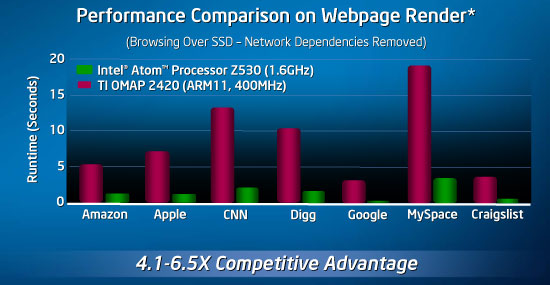 The performance advantage, at least according to Intel's data, is quite clear. While not depicted here, Intel claims to be around 2x the speed of the ARM CPU in the iPhone which is a significant advantage.
What isn't shown here however is a comparison of power consumption or form factor, both areas that ARM currently holds the advantage in. The fact of the matter is that while Atom today is faster than competing ARM offerings, it plays in a completely different space. ARM based products boast smaller form factors and draw less power.
Intel has consistently made the claim that Atom would offer the performance of the first Pentium M at significantly lower power. We were finally able to put that to the test when Intel shared some preliminary data with us. Under SYSMark 2004, a 1.6GHz Atom is around 20% faster than an 800MHz Pentium M (90nm Dothan). As you can expect, a 900MHz Atom is slower than the 800MHz Pentium M as it needs clock speed to make up for the low IPC of the in-order core.
What's even more impressive is the Atom test platform I saw running. Intel showed me an Atom test motherboard running Windows Vista and Unreal Tournament 2004 at smooth frame rates, without so much as a heatsink on the CPU. The surface of the CPU was around 35C and it did not even need a heatsink.
While I'm still not very positive on the first Atom devices, this was the one live demo that honestly had me impressed. It's been far too long since the days when serious CPUs didn't need heatsinks, and it looks like with Atom - Intel may just be bringing that back.