What about Crysis on Very High?
So we tested Crysis on Very high settings with our single 9800 GX2 and Quad setup. Here's what we got: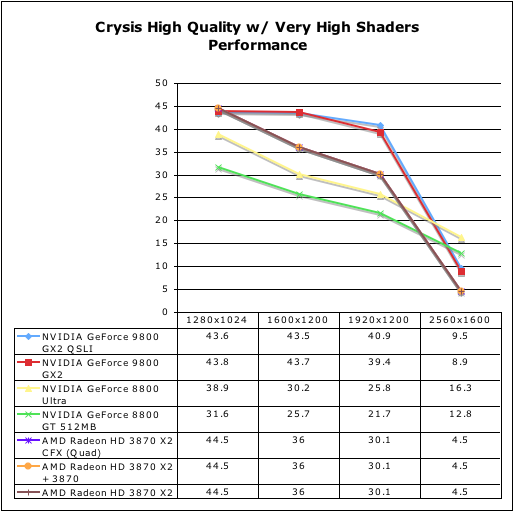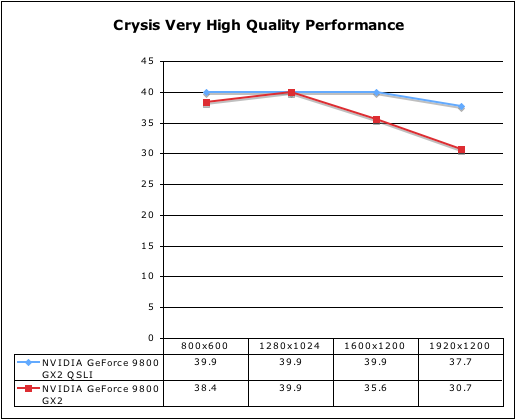 As we can see, with very high quality, performance starts to diverge between the dual and quad GPU NVIDIA solutions. It's also interesting to note that performance doesn't drop a great deal when moving up in quality. This indicates that the 9800 GX2 is still system bound in some way. And oddly enough, it looks like it is more system bound at the higher quality setting.
To test this absurd theory, we decided to see what happened when we overclocked our 8 CPUs from 3.2 to 4GHz. Let's test the theory that we are CPU bound to about 45-50 fps at high quality and 40 fps at very high quality. Here is what our 25% overclock netted us when we tested with both very high and high quality using the 9800 GX2 in Quad SLI.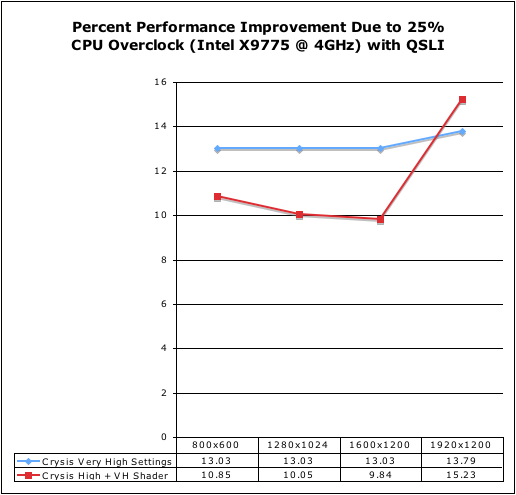 I'll give you all a second to pick your jaws up off the floor....
Ok, break's over. We see more than a 50% performance improvement per percent increase in CPU clock speed; a 25% clock speed increase netted us more than half that in real performance under Very High Quality settings. We saw less than 50% improvement at lower res for High Quality plus Very High Shaders until we hit 1920x1200, which netted us a 15% gain on a 25% increase in clock speed.
This indicates that the higher the graphical quality, the MORE CPU bound we are. Crazy isn't it? It's counter-intuitive, but pure fact. In speaking with NVIDIA about this (they have helped us a lot in understanding some of our issues here), the belief is that more accurate and higher quality physics at higher graphical quality settings is what causes this overhead. Also, keep in mind that we are testing in a timedemo with AI disabled.
And that's not where it ends. We are platform bound as well. Yes, I said platform bound. A quick check on 780i returned these results: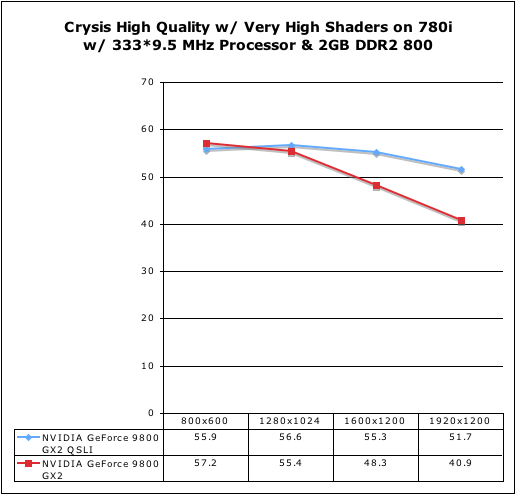 Not that we are still CPU bound here even though performance is about 25% higher than on Skulltrail (we benefit even more from a platform change than from an overclock). This is with the same speed CPU. It's quite unfortunate that we stumbled across all of this last night with the help of NVIDIA while trying to troubleshoot our issues. Remember we said that NVIDIA expects a 60% improvement in Crysis at 19x12 with Very High Quality settings. The added number of cores, the fact that I'm only able to run two FB-DIMMS at the moment (for half of the system memory bandwidth I should have), the arrangement of the PCIe lanes on Skulltrail … All of this contributes to our system limitation here and our inability to see scaling from 9800 GX2.
Now, we have seen better performance on Skulltrail in the past, so it is unclear if there is something we can do to remove some of this system limitation at this point. We will certainly be exploring this further as we would still like to make a single platform work for all of our graphics testing. If we can't then we'll move on, but it is useful to discover if this is an Intel issue, an OS issue, a driver issue, or something else. If it's fixable we need to find out how to fix it, as there are probably two or three people out there who've purchased a D5400XS board and will not be happy if it performs much worse than 780i boards in cases like this. My working theory right now is that I applied some hotfix or changed some seemingly benign OS setting that caused some problem somewhere. But like I said, we'll track it down.