Overall Performance Scaling With 4 GPUs
Before we present the percent scaling when moving from SLI / CrossFire to Quad-SLI / CrossFireX, we need to make note of a few things.
First, the 9800 GX2 is a higher performance part and is going to run into CPU limitations more readily than the 3870 X2. This means that sometimes scaling won't reflect the true potential of the NVIDIA solution.
Second, anything over 50% scaling shows that the game is running on all four GPUs. However, less than 50% scaling doesn't mean that all four GPUs are not doing work. On the contrary, if two GPUs don't scale near linearly, moving from two to three will likely not scale linearly as well, meaning you could be seeing work done on 3 GPUs at less than 50% scaling up from the single-card dual-GPU solutions we have here. Then adding a fourth GPU might not even bring the percent high enough to make it clear that four GPUs matter.
What more than 50% scaling means is that all four GPUs absolutely matter and the game scales well with a Quad solution. With that in mind, lets take a look at the numbers.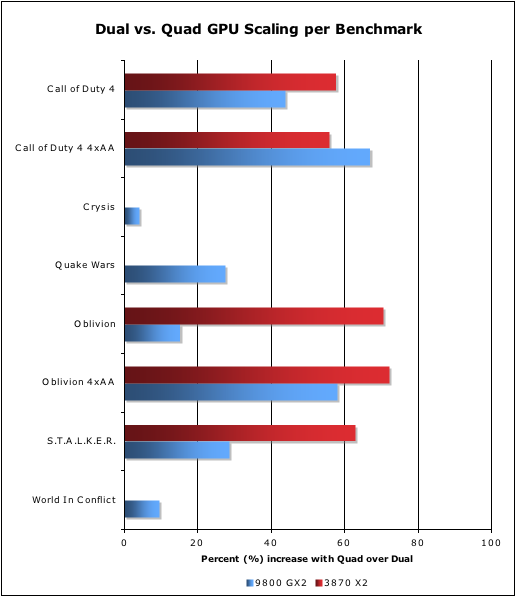 So this becomes very interesting when you hear that NVIDIA claims 60% scaling with Quad-SLI in Crysis when running at Very High settings. We ran these numbers at High + Very High shaders, as we really didn't expect that Very High would be any more than a slide show. We'll take a look at this later. For now, suffice it to say that High settings plus Very High Shaders is CPU bound even at 1920x1200 under Crysis. Very High settings are also playable with Quad-SLI, but more on that later.
The Oblivion without AA numbers on NVIDIA are low because a single 9800 GX2 actually outperforms the Quad-SLI until you hit 2560x1600. This beast is made for high res gaming as long as bandwidth doesn't kill it. 2560x1600 with Crysis isn't here yet (unless you want to turn the quality way down), but this is only for people with 30" panels. If the only thing you want to buy 9800 GX2 Quad-SLI for is Crysis then by all means save the cash and get a 1920x1200 panel. We certainly don't recommend such flagrant spending for one title though, and if you want your money's worth, you'll want the biggest display possible.
So, CrossFireX doesn't scale at all in Crysis, all of our AMD cards started crashing out of the World in Conflict benchmark, and CrossFireX won't run with OpenGL games yet. (AMD will release a driver supporting this at a later time.)
Neither quad solution hits every mark perfectly. We'll take a look in a minute to see what happens with Crysis at higher settings, but in Oblivion - since performance is actually lower than AMD hardware - we wouldn't expect to see any sort of system limitation here.