GDC Coverage: Wrapping it Up
The Expo
This year's GDC was filled with an incredible depth of technical and artistic information pertaining to game development. As AnandTech's only representative at the show, there is no way I could cover it all, but I certainly had a great time trying. Next year we'll gather up a couple more people and hit more of the deep under the hood game development stuff. GDC is on the level of IDF in terms of technical detail and it combines this hardcore techie focus with the artistic nature of game development and design. On top of that, it seems that GDC serves, in a more professional manner, the necessity of connectivity and networking that E3 used to fill in the industry. There was a heavy focus on both the careers of individual developers as well as the relationships between game development companies and publishers.
The expo floor was filled with wonders. There were stereoscopic displays, unique input devices, new game development tools and software, and a multitude of games by independent and corporate developers alike. The following contains some of the highlights of the expo which was light on fluff and heavy on content.
The Independent Games Festival
In addition to the conference and the expo, the GDC plays host to the Independent Games Festival. We stopped by to check them out, and we would recommend taking a look at Audiosurf and World of Goo. Here's the site to check out for more details on these games. We tried to get some pictures of each game, but the crowds and technical difficulties got in the way. Here's what we've got:
X-Play
In addition to the expo, there were some other cool goings on. X-Play happened to be filming in the North Hall every day, and we stopped by the set to check it out. For those who don't know, X-Play is perhaps the only good show (aside from Ninja Warrior) left on the G4 TV network after it merged with TechTV and simultaneously destroyed the integrity of both channels by turning it into something more like Spike TV than either a techie or a gamer network. But there's no use being bitter, and it is what it is. Besides, we've got Revision3.com for all our real television needs.
I did get to meet Adam and Morgan at the X-Play reception on Thursday night (along with some of the behind the scenes guys: Rob, Matt, and Wade). Adam was … well, a lot like you would expect him to be: very over the top and friendly.
Morgan seemed a bit preoccupied with how difficult it is to keep all the little geek hands off of her backside during conventions. I suppose I'm not unsympathetic, but I was really shocked to learn that the traditionally introverted group of people who would be into a video game review show could be so forward. And then I remembered that they are the same group of people who tend to be socially ostracized because they don't think anyone can see them picking our noses in public or smell them when they don't bathe. And I do have quite a few friends who seem to think a woman's eyes route through her breasts during a conversation. I suppose it's a short step from there to thinking something like "she won't notice if…" but luckily none of our readers are "that guy."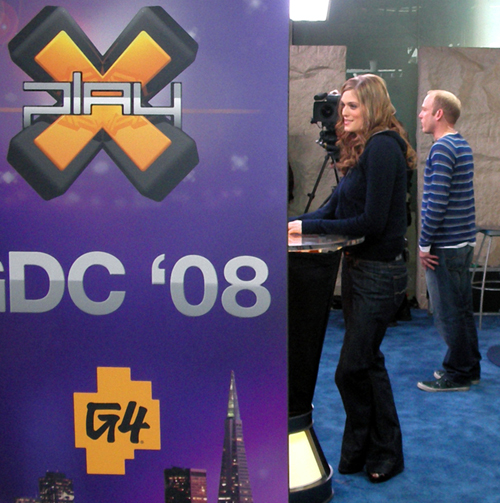 We also happened to see Victor Lucas as he stopped by to say hi to the folks at X-Play. He was responsible for the show "Judgment Day" (another video game review show) before G4 took it off the air.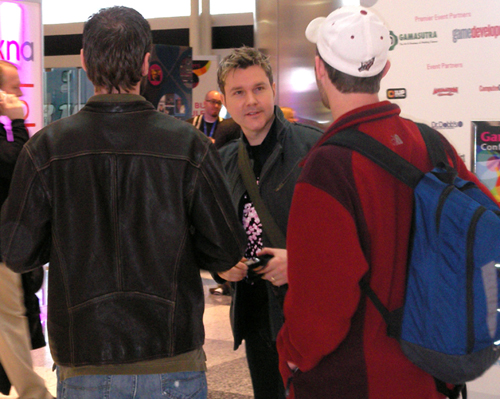 Other Than the Expo and The Sessions …
Some of what we did at the show was quite boring and useless in the short term. We have recently been getting involved in game reviews (sticking our toes in the water really) and we spent a lot of time talking with publishers, getting contact info for PR personnel and going about setting up relationships for the eventual acquisition of review product. The end goal, of course, being to have game reviews go live on the day they game is launched. This is quite a ways out, but we were able to make a few good contacts at some of the smaller publishers.
We also searched for some useful technologies to make our hardware testing easier. It turns out that there is a company (called Replay) that specializes in recording input to a game and playing it back. This is not just user input, but all communication into and out of a game (including system and API calls, clock tics, and time data). The goal of these guys is to help developers reproduce bugs and optimize their code.
Of course, it might be good for us if the overhead is low enough and if we can get it working with a good number of games. There is an issue in that they can only record and playback functions that they know about, and there is some lead time on when they are able to support new games. This could produce data that is both real world and perfectly reproducible … Of course, if a game uses different code paths for NVIDIA, ATI, Intel or AMD hardware we could run in to issues as well and it certainly wouldn't work between different operating systems. It's certainly something we'll be playing with though.