Brace Yourself, High Latency Roads Ahead
We tested Skulltrail with only two FB-DIMMs installed, but even in this configuration memory latency was hardly optimal:
| | |
| --- | --- |
| CPU | CPU-Z Latency in ns (8192KB, 256-byte stride) |
| Intel Core 2 Extreme QX9775 (FBD-DDR2/800) | 79.1 ns |
| Intel Core 2 Extreme QX9770 (DDR2/800) | 55.9 ns |
Memory accesses on Skulltrail take almost 42% longer to complete than on our quad-core X38 system. In applications that can't take advantage of 8-cores, this is going to negatively impact performance. While you shouldn't expect a huge real world deficit there are definitely going to be situations where this 8-core behemoth is slower than its quad-core desktop counterpart.
Scaling to 8 Cores: Most Benchmarks are Unaffected
Trying to benchmark an 8 core machine, even today, is much like testing some of the first dual-core CPUs: most applications and benchmarks are simply unaffected. We've called Skulltrail a niche platform but what truly makes it one is the fact that most applications, even those that are multithreaded, can't take advantage of 8 cores.
While games today benefit from two cores and to a much lesser degree benefit from four, you can count the number that can even begin to use 8 cores on one hand...if you lived in Springfield and had yellow skin.
The Lost Planet demo is the only game benchmark we found that actually showed a consistent increase in performance when going from 4 to 8 cores. The cave benchmark results speak for themselves:
| | |
| --- | --- |
| CPU | Lost Planet Cave Benchmark (FPS) |
| Dual Intel Core 2 Extreme QX9775 | 113 |
| Intel Core 2 Extreme QX9775 | 82 |
| Dual Intel Core 2 Extreme QX9775 @ 4.0GHz | 124 |
At 1600 x 1200 we're looking at a 30% increase in performance when going from 4 to 8 cores, unfortunately Lost Planet isn't representative of most other games available today. Other titles like Flight Simulator X can actually take advantage of 8 cores, but not all the time and not consistently enough to offer a real world performance advantage over a quad-core system.
The problem is that because most games can't use the extra cores the added latency of Skulltrail's FB-DIMMs actually makes the platform slower than a regular quad-core desktop. To show just how bad it can get, take a look at our Supreme Commander benchmark.
At the suggestion of Gas Powered Games, we don't rely on Supreme Commander's built in performance test. Instead we play back a recording of our own gameplay with game speed set to maximum and record the total simulation time, making a great CPU benchmark. We ran the game at maximum image quality settings but left resolution at 1024 x 768 to focus on CPU performance, the results were a bit startling: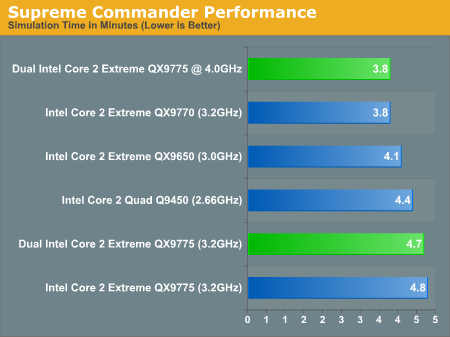 Thanks to the high latency FBD memory subsystem, it takes a 4.0GHz Skulltrail system to offer performance better than a single QX9770 on a standard desktop motherboard. We can't stress enough how much more attractive Skulltrail would have been were it able to use standard DDR2 or DDR3 memory.
Gamers shouldn't be too worried however, Skulltrail's memory latency issues luckily don't impact GPU-limited scenarios. Take a look at our Oblivion results from earlier for affirmation: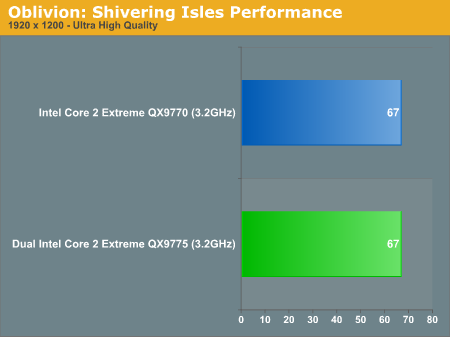 In more CPU bound scenarios like Supreme Commander, you will see a performance penalty, but in GPU bound scenarios like Oblivion (or Crysis, for example), Skulltrail will perform like a regular quad-core system.
The Bottom line? Skulltrail is a system made for game developers, not gamers.
Other benchmarks, even our system level suite tests like SYSMark 2007, hardly show any performance improvement when going from 4 to 8 cores. We're talking about a less than 5% performance improvement, most of which is erased when you compare to a quad-core desktop platform with standard DDR2 or DDR3 memory.
That being said, there are definitely situations where Skulltrail performance simply can't be matched.