Dual socket motherboards have been around for ages, but dual socket enthusiast motherboards have a far shorter history. Back during the days where instruction level parallelism seemed to have no end in sight, having more than one CPU just didn't make sense for the masses. Most Windows applications weren't multithreaded and CPU prices just weren't what they are today.
Many of the same types of applications that benefit from multiple cores today were still around back then; 3D rendering, animation and image processing were all multithreaded CPU hogs. The problem is that if you wanted more than one CPU you generally had to make a choice between a tweakable, high performance enthusiast motherboard or a workstation board. Workstation motherboards were much more expensive, not nearly as flexible from a component standpoint and hardly ever performed as well as their desktop counterparts - the only real benefits were a more robust design and of course, the ability to support multiple CPUs.
Over the years we saw a few important dual-socket enthusiast motherboards arrive on the scene, the most popular of which was arguably ABIT's BP6. For all intents and purposes the BP6 was a desktop motherboard, it just had two CPU sockets. Intel's Celeron processors were cheap enough where you could pop in a couple, overclock them and have a pretty decent workstation based on an enthusiast desktop motherboard. Tradeoffs? There were none. It was a very popular board.
Times do change and eventually AMD/Intel stopped getting amazing returns from simply increasing instruction level parallelism and clock speed with their CPUs. The two turned to thread level parallelism to carry them through the next decade of microprocessor evolution; seemingly overnight, everyone had multiple cores in their systems.
The advent of the multi-core x86 CPU all but eliminated the need for a dual socket enthusiast platform. If you needed more cores simply toss a multi-core CPU in your desktop board and you were good to go. When Intel introduced the first quad-core desktop x86 processors things got even worse for dual socket motherboards. Most applications have a tough time using more than two cores, a single quad core CPU covered virtually all bases - and they were affordable too.
AMD didn't have a quad-core CPU until the recent launch of Phenom. In order to fill the gap between the dual core Athlon 64 X2 and the delayed arrival of Phenom, AMD dusted off plans to introduce a dual socket enthusiast platform and called it Quad FX.
The idea was simple: build an enthusiast platform that used normal dekstop components but had two sockets. With dual-core CPUs this meant that you'd have four cores in a system, and when quad-core arrived you'd have a healthy 8, all on an enthusiast class motherboard.
Quad FX was abandoned by AMD (although it does promise an upgrade path to quad-core CPUs), largely because while you had to buy an expensive motherboard and two dual cores to put the Quad in Quad FX, Intel was shipping faster, single socket, quad-core CPUs.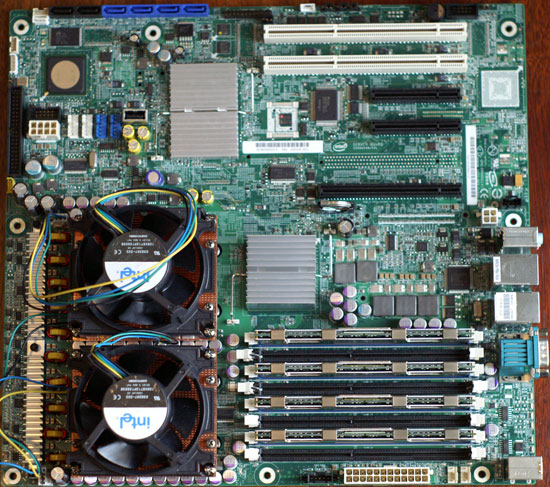 Intel did see some merit in AMD's Quad FX platform and actually released an ill-prepared competitor, something it called V8. Intel basically took a workstation Xeon motherboard and recommended enthusiasts purchase a pair of quad-core Xeon processors, giving you an 8-core alternative to Quad FX. The problem with the V8 platform was that it was expensive, there was no multi-GPU support and it required expensive FB-DIMMs thanks to its Xeon heritage.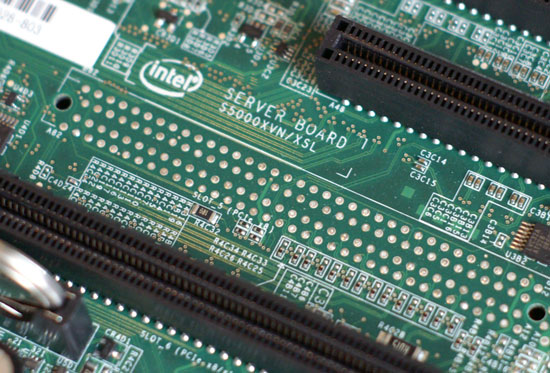 The original V8 board was straight from the server world
Last April, Intel announced that it would be releasing a successor to V8, codenamed: Skulltrail. Designed to fix many of the problems with V8, Intel kept its promise to release the platform despite AMD's abandonment of the Quad FX project.
Today we have a preview of Skulltrail, which Intel expects to make available this quarter. Unlike Intel's Centrino or vPro, Skulltrail isn't officially a "platform" it's just a name for a motherboard and CPU combination, nothing more. The motherboard is the Intel D5400XS, based on Intel's 5000 series server/workstation chipset (yes, FB-DIMMs are still a requirement). The board supports any LGA-771 CPU, but Skulltrail is designed to be used with a new processor: the Core 2 Extreme QX9775.