Freezer 7 Pro
The tested Freezer 7 Pro is an Intel Socket 775 mount. The cooler is also available for current AMD sockets as the Freezer 64 Pro.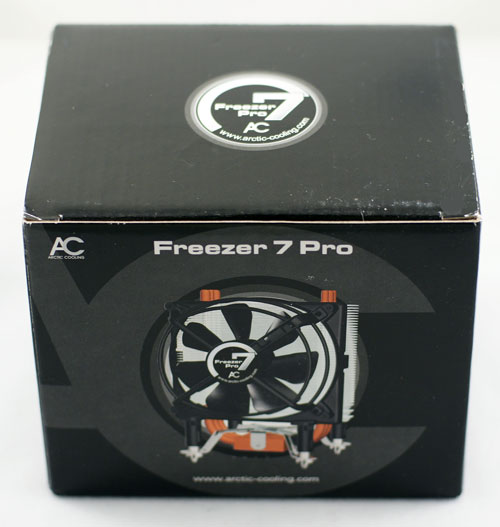 Packaging for the Freezer 7 Pro follows the family image of the Arctic 7 with a similar black background and the AC7 logo.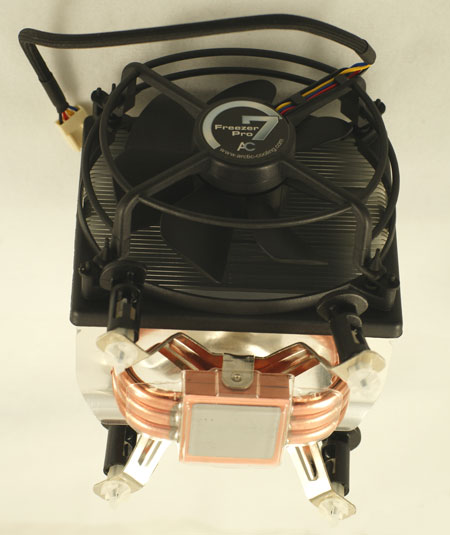 The fully assembled Freezer 7 Pro comes packaged in a protective styrene shell. Everything is pre-assembled. Even the thermal compound is pre-applied.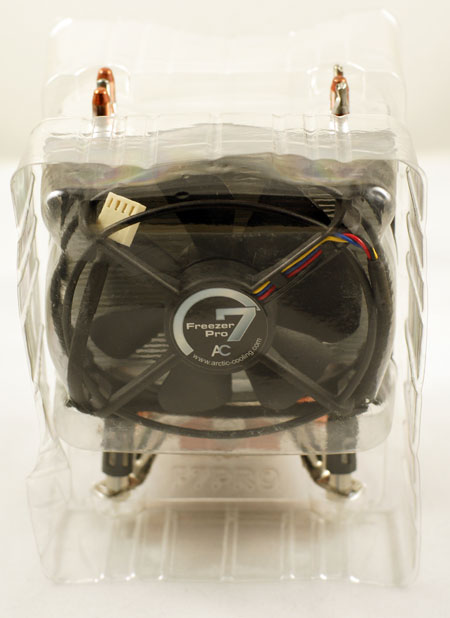 The only accessory for the Freezer 7 Pro is the Installation Instructions and an Arctic Cooling label to stick somewhere if you want to use it. There is absolutely nothing that needs to be attached to the cooler. If you like simple this is as good as it gets for a heatpipe tower.
Specifications
The Freezer 7 Pro is a side-facing fan heatpipe tower, similar in concept to many of the top coolers tested recently at AnandTech. It originally entered the market at around $35, but the price has dropped since to the $22 to $25 range, making it very affordable for this type of cooler. The Freezer 7 Pro is still small compared to coolers like our top Thermalrights, or the Scythe Infinity or Tuniq Tower. All those top coolers use 120mm fans, where the Freezer 7 Pro uses a 92mm fan.
Freezer 7 Pro
Heatsink Dimensions
104(W) x 58(D) x 126.5mm(H)
Dimensions with Fan
107(W) x 96.5(D) x 126.5mm(H)
Weight
520g (18.3 ounces)
Material
Aluminum Fins with Copper Heatpipes
Cooling Capacity
130W
Configuration
Heatpipe Tower with 3 U-Loop Heatpipes
Freezer Fan
Fan Size
92 mm
Fan Module Dimensions
107mm x 43.5mm x 96mm
Fan Speed
300-2500 rpm (controlled by pwm signal)
Connector
4-pin (PWM)
Fan Bearing
Arctic Ceramic Bearing
Rated Life
137,000 hours (MTTF@40C); 274,000 hours (MTTF@30)
Maximum Airflow
46 CFM
The Freezer 7 Pro fan itself is 92mm and frameless like the Alpine 7, but it is rated for higher output. Strangely, the higher output Freezer 7 Pro fan uses a lower life ceramic bearing instead of the long life Fluid Dynamic Bearing featured in the cheaper Alpine 7.
Installation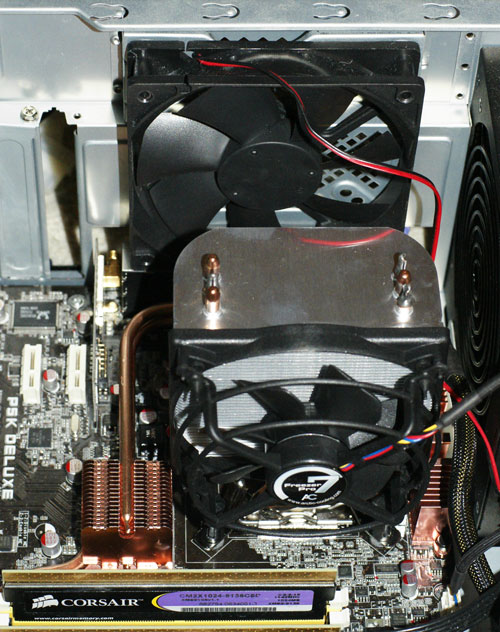 Even the thermal compound comes pre-applied so mounting is incredibly easy. Push the four pins in the holes until they click and the cooler is mounted. The pushpins are not our favorites for secure mounting, but they seem very adequate for this lighter weight heatpipe tower. Installation is the easiest we have ever seen, which should be welcome news for mechanically challenged cooler installers.