BIOS Guide and Information
We have picked out a few of the more important BIOS functions for a breakdown of their use. Our testing is all based upon the F3C and F3D BIOS releases, so the ability to use some of these settings may change with future releases.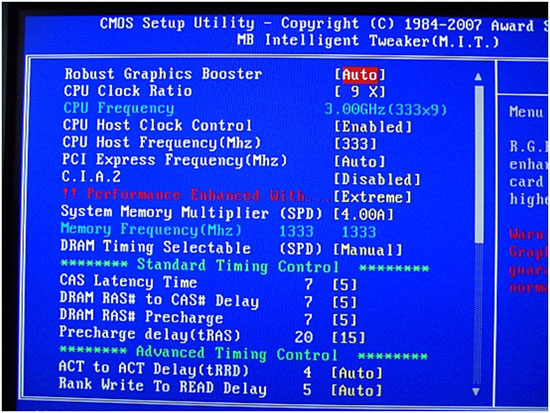 Robust Graphics Booster
Available functions are Auto, Fast and Turbo. We could find no good reason to use anything other than Auto or Turbo mode. Auto seems to default to Turbo mode anyway. In the interest of performance, we did attempt to use the Fast setting, which actually prevented driver initialization during the Windows boot sequence. Sticking on Auto or Turbo is best.
CPU Clock Ratio
This function sets the CPU multiplier; please note the F3D BIOS adds half multiplier support for the QX9650.
CPU Host Clock Control
Options are Enabled and Disabled. Select Enabled to change the FSB and overclock your processor. In the event of a failed overclock this function will return to Disabled.
PCI Express Frequency
Default is Auto. We have found overclocking the PCI-E bus up to 115MHz is possible, although we could not substantiate any real performance advantages in doing so. Speeds over 115MHz are liable to cause non-recognition of SATA drives. Using an IDE drive is recommended if you wish to run over 115MHz.
C.I.A. 2
Gigabyte's automatic overclocking function senses system load and overclocks the processor automatically. There are six available options: Disabled, Cruise, Sports, Racing, Turbo, and Full Thrust. The most aggressive setting is Full Thrust, providing a small percentage CPU/memory overclock under load. Select Disabled for manual overclocking.
Performance Enhanced With
There are three functions available in this setting: Standard, Turbo, and Extreme. Changing this setting does nothing more than manipulate Performance Level (tRD). The Extreme setting selects the default tRD, while Standard and Turbo will relax tRD by 1-2 levels.
System Memory Multiplier (SPD)
Memory divider ratios can be configured by this function. The available memory dividers per Northbridge strap are shown in the table below.
Gigabyte GA-X48T-DQ6 Available Memory Dividers
Northbridge Strap
Available Memory Dividers
200 MHz
5:3, 2:1
266 MHz
5:4, 3:2, 2:1
333 MHz
1:1, 6:5, 8:5, 2:1
400 MHz
1:1, 4:3, 5:3, 2:1
.
Leaving this function on Auto, results in the 2:1 divider being picked for overclocking by default. For manual use, we found the 333 strap 2:1 divider to be the most stable combination to use for quad-core processors. For dual-core processors, the 266 strap and 3:2 divider worked best for us.
DRAM Timing Selectable (SPD)
If left on Auto the BIOS will attempt to sense and adjust memory timings automatically depending on the level of FSB overclock applied. Set this to manual to obtain control of several key memory/chipset timing parameters below.
CAS latency Time
DRAM RAS# to CAS# Delay
DRAM RAS# Precharge
Precharge Delay (tRAS)
These are the four primary memory options. If performance is desired, users with 1800MHz DDR3 can aim for 6-6-6-18 1N timings at DDR3-1600 (400FSB 2:1 divider). If low voltages are preferred then either CAS 7-7-6-20 at DDR3-1700 or CAS 8-8-7-21 may be used if you can find enough FSB stability with your processor.
ACT to ACT Delay (tRRD)
Auto will default mainly to a setting of 4 under 500 FSB, which is fine for stability and performance in most cases. Users may wish to experiment with tRRD under 4 via Memset in XP for benchmarking. For high FSB overclocking a setting of 5 may help with stability.
Rank Write to Read Delay
If using manual timings, remember that this setting is offset by -10. Setting 5 manually will give a real setting of 15. The range of interest for overclocking is between 5 and 9 in BIOS (15 to 19 actual), for Micron based modules. Memory speeds over DDR3-1800 require setting of ~9 for stability. For benchmarking, use Memset within Windows for manual tuning.