Why Do Laptops Matter?
It never fails that whenever the subject of gaming notebooks comes up, someone asks: why should we bother? Won't we always get better performance in a desktop, and at a more reasonable price? That has always been the case, and we see no reason why this should ever change. Size and power requirements invariably dictate that it is easier to put more powerful components in a desktop system. That does not mean that everyone needs or even wants a desktop.
One of the most common examples that we've encountered is people serving in the military; lugging around a full-size desktop can be more than just inconvenient for such a user. College students are another good example of people that might get more use out of a notebook. Many businesses are also finding that notebooks are better than desktop computers, and plenty of home users find the ability to surf the Internet throughout the house to be desirable. To the earlier question, we counter: why do we need to have a large desktop taking up space if we can do everything we want from an easily transportable notebook? Market research indicates this sentiment is growing in popularity, as seen in the following slide.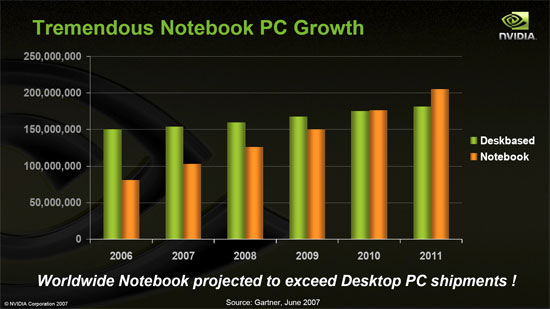 We are fast reaching the point where the need for improved performance is no longer a driving concern for most users. We can see many areas where dual-core processors are extremely useful, but quad-core is absolutely overkill for the average person surfing the net, writing documents, managing spreadsheets, and even playing games. We will eventually see the point where quad-core becomes ubiquitous, but plenty of users and businesses continue to function with no difficulties on computers that are several years old. When those groups are finally ready to upgrade their aging desktops, stepping up to a moderate laptop makes a lot of sense.
The time of "one-size-fits-all" computers is long past, and having a good idea of what you plan to do with your computer helps tremendously when it comes time to upgrade. While there will always be people that prefer desktops for certain uses - 30" displays and workstations doing serious number crunching for example - for most others mobile computers are now worth considering. Laptops continue to cost more, but decent laptops start at less than $1000, at the very least making them worth a second look. How does graphics performance fit into the equation? Let's turn our attention to the star of today's article for the answer.