AnandTech's first look at Intel's Pentium II Xeon showed that it is not the ideal processor for the gamer or tweaker. The minimal performance gains in these situations are simply not worth the extra money that it costs. Instead, it is clearly aimed at the high end server and workstation markets, where cost is much less of a factor and every ounce of performance can be put to good use.
Tyan is best known for producing motherboards with possibly the best quality, reliability, and expansion capabilities on the market. These expertise are especially well suited to the server and workstation market where the Xeon will be found most often. As such, the Thunder X from Tyan looks at first glance like the perfect mate for that shiny new Xeon processor. Let's see how well it handles the challenge...
---
New Anand Tech Report Card Rating
Overclocker's Grade: 85/B
Non-Overclocker's Grade: 87/B+
Do not compare newer ratings to older ones, the newer ratings are much more aggressive
CPU Interface
Dual Slot-2
Chipset
Intel 440GX
L2 Cache
N/A (on-chip)
Form Factor
Extended ATX
Bus Speeds
66 / 68 / 75 / 83
100 / 103 / 112
Clock Multipliers
3.5x - 5.0x
Voltages Supported
Auto Detect
Memory Slots
4 168pin DIMM Slots
Expansion Slots
1 AGP Slot
6 PCI Slots (6 Full Length)
1 ISA Slot (1 Shared / 1 Full Length)
BIOS
AMI Text BIOS
---
The Good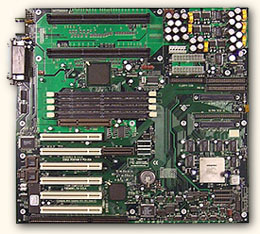 Like the Supermicro S2DGU, the Tyan Thunder X is another monster Xeon board, at least in terms of size. It follows the extended ATX format that is almost double the length of many other ATX boards. In typical Tyan fashion, that size has been put to good use with one of the most expandable boards to come through the AnandTech lab. In fact, this is only the third board we have seen with 6 PCI slots (the others are the Tyan Thunder 100 and the TMC TI5VGF). That leaves room for 1 ISA and 1 AGP slot. All slots are able to accommodate full length cards. Four DIMM slots provide memory expansion. There are even two ATX power connectors for installing redundant power supplies, located at the front of the board along with all the IDE, FDD, and SCSI connectors.
If that still is not enough to meet your needs, there is an Adaptec AIC-7896 on board that provides dual channel Ultra 2 LVD SCSI for all your SCSI needs. There is one 68-pin Ultra 2 connector on each channel and one 50-pin connector on channel B. The 68-pin connectors can be used for SE or LVD devices, while the 50-pin connector is solely for SE narrow devices. However, be warned that if you have any SE devices on a particular channel, all devices on that channel will operate in SE mode, cutting the bandwidth of LVD devices in half (from 80MB/s to 40MB/s). So keep those SE devices on channel B and those LVD devices on channel A. Tyan was kind enough to include an internal 68-pin LVD cable with an active terminator on it for use with Ultra 2 devices in LVD mode. Be glad they did since that cable and terminator can cost upwards of $40. Of course, standard IDE, FDD, SE wide SCSI, and SE narrow cables are also included in the package as well.
All that SCSI stuff can get confusing if you've never done it before, but the Tyan manual is excellent as usual and explains it all. That manual also gives pretty much all the information you'll need, accompanied with some good pictures and diagrams, to build a whole system. Lots of information on all the different BIOS settings is also available there including all the different POST beep codes.
The Thunder X features the AMI BIOS in text mode - no WinBIOS here. It is in fact quite powerful with just about any tweaking option you can think of (excluding voltage adjustment). Unlike most, but not all, motherboards based on the Award BIOS, this one allows you to individually select the first, second, and third boot device. This of course allows booting of a SCSI hard drive before IDE. It is also possible to select the second, third, or fourth IDE drive in the system to boot from. Hard drives or floppy drives can also be set to read only mode from the BIOS for a little extra security if the machine is to be available to many people. There's even an option to direct the SCSI LED to the IDE LED so that access to both SCSI and IDE devices can be monitored with just one light.
Clock multipliers from 3.5x - 5.0x are configured by four jumpers on the motherboard, while the FSB speed can be selected in the BIOS under Advanced Chipset Setup. The FSB defaults to Auto (which should be 100MHz for all current Xeon's) but 68/75/83/103/112MHz FSB settings are also available for the overclocking fans.
The SCSI BIOS is separate from the main BIOS and is the standard Adaptec SCSI-Select tool. SCSI-Select goes even further to allow booting from any SCSI ID on either SCSI channel.