Overclocking with the ASUS Maximus Formula SE
For the vast majority of PC users, the announcement of a new CPU or chipset release generates a fair amount of interest, pegged with a realistic and thoughtful reaction towards the potential benefits (if any) over present hardware. Intel has forged ahead at such a pace this last year that it seems owning the performance crown for the foreseeable future is not even enough at this point. Releases of information from AMD about their future CPU and chipset plans have quickly been answered by Intel (with actual product releases in most cases) to ensure their continued market dominance in the enthusiast sector for the time being.
With this rapid release schedule comes improved fabrication methods that have brought many benefits: better speed scaling, lower transistor leakage, lower overall power consumption, and reduced production cost. These new CPU and chipset releases have also been coupled with competitive price cuts based on the competitive landscape that users have enjoyed the past 18 months. We have seen these improvements and strategies delivered with precision by Intel into the market place over the last year and a half while AMD has stumbled. If that's not enough, the upcoming release of the Penryn processor family features a CPU die shrink from the current 65nm process to 45nm along with additional cache sizes and several core improvements such as SSE4 support. This seems more than enough to guarantee an overall performance advantage over AMD for some time to come in the enthusiast sector.
The question from those steeped in conservatism is whether or not this industry will ever fully utilize the potential of current hardware before moving ahead to something new. From a corporate perspective, posing this question can be construed as completely naïve. Indeed, there's money to be had by making a series of small changes, while simultaneously holding a partially revealed trump card in current R&D, just in case there is the chance of a competitor counterstrike.
The Internet has become such a powerful marketing tool that a strategic selection of websites for a launch can create enough interest to guarantee a successful campaign, even when economically or performance wise a change might not be beneficial for the user. At this time, much of Intel's advertising success is accrued by placement of product in the hands of overclockers, who are enlisted to fulfill the role of presenting new hardware by showing gains in various synthetic benchmarks. This is a perfectly logical corporate decision - it is easier to sell new product to a group that is passionate about even the smallest gains than it is to satisfy the somewhat discerning real world PC user.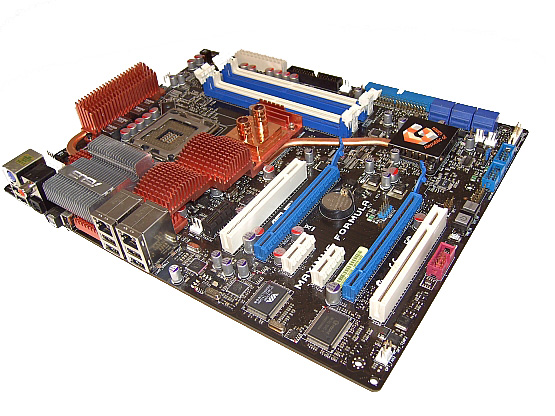 Since the launch of Core 2 Duo, we have shown that any company in support of Intel's CPU and chipset release strategy needs to have sufficient resources to co-exist with Intel's relentless marketing drive. This leads us to ASUS, who has managed to surf the Core 2 Duo wave to its full potential. They are usually among the first to release a motherboard with each Intel chipset launch, reaping the benefits of being one of the preferred launch partners for Intel chipsets. Most of the boards released by ASUS have attained substantial accolade for the most part, especially those priced in the sub $200 region. Further, there is ASUS's top of the line motherboards, the ROG (Republic Of Gamers) series. This particular product line is aimed to satisfy the needs of the upper tier gaming and overclocking enthusiasts.
Over the past year, we have seen several boards released bearing the ROG badge: the Striker Extreme, Commando, Blitz Formula, and Blitz Extreme. Most of these motherboards have been a popular choice for enthusiasts and gamers alike. Our own feelings about the ROG series is that ASUS has offered overall improvements in terms of overclocking friendly BIOS functions, component quality, features, unique on-board cooling designs, and in some cases improved compatibility - although not always. The ASUS Striker series was an especially finicky beast for non-QVL memory modules. Fortunately, the Intel chipset based boards are far friendlier in this department, a trend we hope continues with their latest products.
The latest addition to the "bells and whistles" ROG series is the ASUS Maximus Formula, based upon the Intel X38 chipset and featuring DDR2 memory support. To date, DDR2 performance using the X38 chipset has been a little underwhelming for us. Synthetic and real world benchmarks have shown little to separate X38 DDR2 scores from those using the P35 chipset. The motherboard suppliers should not be penalized for this situation as the X38 was certainly hyped to be the killer product for Intel's high-end aspirations. Our experiences with the X38 over the summer reminded us of a roller coaster ride with several highs but just as many lows as we tested each chipset revision and BIOS release. A month ago we were not excited about the X38, but with the BIOS releases maturing along with early performance results from Penryn we are ready to get back on the roller coaster.
Purchasing decisions often seem clear-cut, especially those based upon outright synthetic performance figures. Before we arrive at a conclusion today, let's look at some of the factors forcing/promoting use of the X38 chipset within selected markets (in this case the top-end enthusiast sector):
Intel's CPU price/performance scaling strategy: Intel uses lower default multipliers for non-Extreme CPUs, demanding higher overall FSB potential from chipsets - especially for quad-core CPUs.
Attaining the limits of economically viable engineering practices by using a separate memory controller hub: This creates the need to push towards DDR3 rather than trying to lower overall chipset latency and increasing memory bandwidth using current DDR2 technology. Using DDR3 and associated memory timing ranges can offer superior scaling potential; testing has shown increased synthetic benchmark scores and small gains in workstation and gaming software with the right memory. The obvious selling points of X38 in DDR2 format are suggested in points 1 and 3.
Dual x16 PCI-E 2.0 support for upcoming AMD graphics solutions (RV670 to start) to improve CrossFire performance.
It is clear that none of the previous Intel chipset releases can satisfy all three of these criteria simultaneously, leaving the door wide open for X38 to establish itself as a capable jack-of-all-trades solution. One of our current X38 favorites is the ASUS P5E3 Deluxe, a solid and versatile performer but one that relies on DDR3 for its performance edge. On the DDR2 front, the main competition at this time for ASUS is coming from Gigabyte's GA-X38-DQ6, another board that we see as a very versitle choice for the DDR2 crowd. We have spent countless hours the last three weeks testing several X38 boards and the ASUS Maximus Formula instantly stood out from the pack, so let's take a first look at what this board has to offer for the enthusiast.