In our
New Mid-Priced Coolers article
, we moved the focus down a notch to examine some value options available in midrange coolers. We found an excellent midrange performer in the small and efficient OCZ Vendetta, but there are plenty more midrange cooler to examine. Today our quest for high-performance, reasonable cost cooling continues with the latest offering from Cooler Master - the Hyper 212.
The latest Cooler Master takes a very different approach than the OCZ Vendetta. The Hyper 212 is a large heatpipe tower complete with a high-output, low-noise 120mm fan. It was not designed to be small, but to bring value to the full-size heatpipe tower market.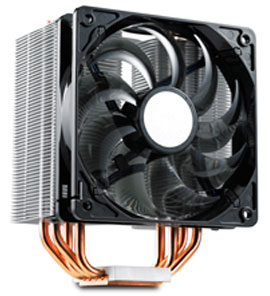 The design follows the formula that has worked best in recent cooler reviews. Past test results have consistently shown the best heatpipe tower designs are those with side facing fans, and that is the design Cooler Master chose for the Hyper 212. The difference is that the 212 is intended to sell for around $40 instead of the $50 to $70 that is common for top heatpipe towers. Cooler Master has also designed the Hyper 212 to use a second 120mm fan if you choose to configure the cooler in a push-pull design.
By using a 120mm fan instead of the more common 80mm or 92mm used in other midrange designs, Cooler Master has avoided a large dilemma. The smaller and less expensive coolers generally use the 80mm~92mm fans that run at a much higher RPM, which usually generates higher noise levels. Using a 120mm fan should avoid the high noise that is typically a problem with midrange designs.
On paper, Cooler Master seems to have delivered a top performance design at a lower price point with very few design compromises. Of course, price to performance is extremely important for buyers looking for value in this market segment. Does the Hyper 212 offer an outstanding value in an air cooler market loaded with other excellent performers? Put another way; are the performance and features of the Hyper 212 better than other offerings targeting the $40 price point?