What do we have here today? Yorkfield
The problem with Intel's codenames these days is that we've got processor family codenames and then actual chip codenames. Penryn refers to the entire family of 45nm Core architecture products that have been/are being announced, but the actual chips themselves all have their own codenames. For example, the 45nm Penryn based quad-core Xeon processor is codenamed Harpertown. Penryn on the desktop carries two names: Yorkfield and Wolfdale.
Yorkfield is quad-core Penryn for the desktop, Wolfdale is simply dual-core. Yorkfield isn't actually a different die, because a Yorkfield chip is just made up of two Wolfdale die on the same package (just like current quad-core Kentsfield Intel CPUs). This won't change until Nehalem.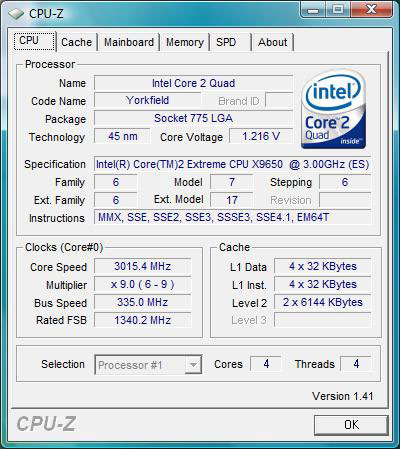 The chip that Intel is launching today is the first Yorkfield: the Core 2 Extreme QX9650. The quad-core QX9650 runs at 3.0GHz with a 1333MHz FSB, much like its predecessor the QX6850. Like all Yorkfield CPUs, the QX9650 is made up of two independent dual-core die on a single package, each one with a shared 6MB L2 cache for a total of 12MB of on-chip L2 cache.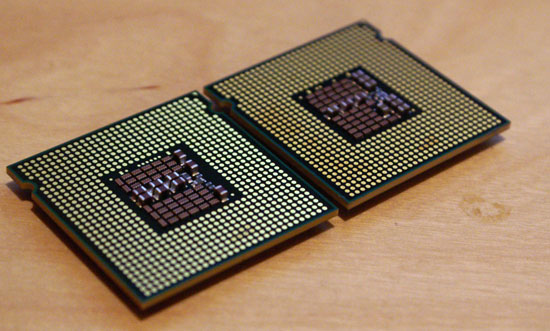 QX9650 (left), QX6850 (right)
The QX9650 will work in a number of presently shipping motherboards; we tested ours in an ASUS P35 board, but you'll have to check with your board vendor - or check our Penryn Compatibility article - to make sure that there's BIOS/board support for it. The chip is still physically an LGA-775 processor so it'll fit in any LGA-775 socket; it's just up to the motherboard guys to implement hardware and BIOS level support for the processor.
Pricing hasn't been announced yet but we expect the QX9650 to come in at the $999 mark, the same as previous Core 2 Extreme parts.
Test Configuration
CPU:
Intel Core 2 Extreme QX9650 (3.00GHz/1333MHz)
Intel Core 2 Extreme QX6850 (3.00GHz/1333MHz)

Motherboard:
Gigabyte GA-X38-DQ6 (Intel X38)
Chipset:
Intel X38
Chipset Drivers:
Intel 8.1.1.1010 (Intel)
Hard Disk:
Seagate 7200.9 300GB SATA
Memory:
Corsair XMS2 DDR2-800 4-4-4-12 (1GB x 2)
Video Card:
NVIDIA GeForce 8800 GTX
Video Drivers:
NVIDIA ForceWare 163.75
Desktop Resolution:
1600 x 1200
OS:
Windows Vista Ultimate 32-bit