It's been quite awhile since we last brought you a good look at anything having to do with a networking component but we're working hard to change that. Today we'll be sharing our thoughts and feelings on
TRENDnet's
newest wireless router, the TEW-633GR, which promises to bring blazing-fast, next-generation Draft-N (802.11n draft 2.0) transmission speeds (up to 300Mbps), along with advanced encryption and security protocols to your home or small office network - all while providing the range and reliability you've come to expect from a premium component.
According to the latest marketing hype, wireless
Draft-N
specifications boast nearly 15x the speed of wireless G (802.11g) networks and about 4x the coverage area. It's important that potential consumers realize these quoted values are theoretical maximums and typically will not be reached by the hardware. Each vendor has a rather significant impact on just how well their units perform based upon hardware design, component choice, and firmware. For that very reason, we've decided to complete some rather straightforward testing that accurately summarizes a few real-life usage scenarios.
Because a router provides such crucial functionality, it's vitally important to choose one that's a proper match for the network of interest - being central to the entire network topology means that there's a high potential for it to quickly become the traffic bottleneck when high demands are placed on the network. For instance, installing a router without an integrated Gigabit switch would be rather silly if there were attached components able to make use of faster link speeds. At the same time, paying for additional functionality that would go unused would be particularly wasteful from an economics perspective.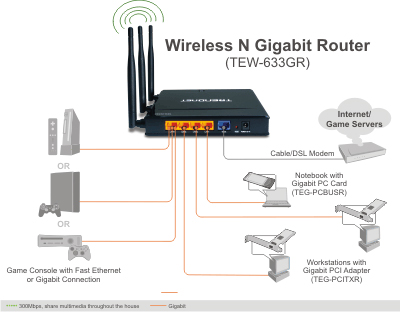 Many buyers may find themselves wondering if there's any real benefit to be had in spending the time and money swapping out their current wireless/wired router for a newer Draft N model. The answer really depends on whether or not their current solution makes full use of the available bandwidth. Those that find themselves transferring large amounts of data from one system to another - either through network attached storage (NAS) devices, data archival/backup, or streaming audio and/or video (especially HD) content to one or more Home Theater PCs (HTPC) - are more than likely stretching their network to the limit. Users that primarily surf the internet, send the occasional email, and occasionally play online games with their friends might be surprised to hear their network is relatively underutilized and is not in need of an immediate upgrade.
For the majority of users, a router's main purpose is to join two distinct subnets via an internal network and the internet-connected subnet access provided by your ISP. Another major function is to provide a primary layer of security, often referred to as a firewall, in which incoming and outgoing traffic is inspected and then either rejected or allowed pass to and from the underlying networks.
With nearly a dozen companies all competing for your dollar it's no wonder choosing the right router can be a daunting task. Although we won't be going through every Draft-N router on the market today, you should have a pretty good idea of what features to look for by the end of this article. We'll be discussing the basic wireless requirements and a few of the more popular secondary functions. Let's take a quick look at the features the TEW-633GR has to offer and its performance.