November 12, 2007 is the date.
The processor? Intel's Core 2 Extreme QX9650.
The core? Penryn, 45nm, quad-core - Yorkfield if you want to get codename specific.
Over 800 million transistors, mostly used to create 12MB of L2 cache split among two die, this chip is truly a marvel and of course Intel had it at IDF.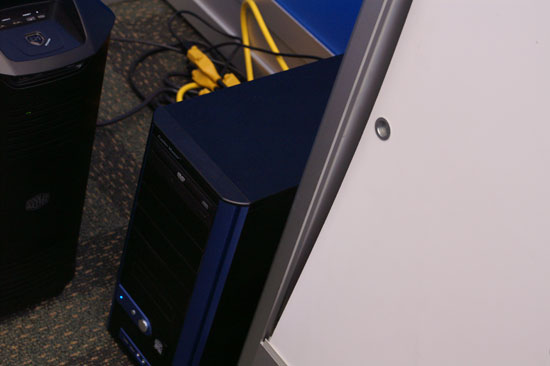 One of many X38 systems equipped with a 3.0GHz Yorkfield Penryn at IDF
There was no hiding Penryn at this year's IDF; it was in all of the demo machines, it was talked about in great detail during the technical sessions and of course, Intel let us benchmark it. As always, Intel's benchmarks were under controlled circumstances; while we ran the tests ourselves Intel already knew the outcome.
We've already previewed the dual-core version of Penryn, codename Wolfdale. The clock-for-clock performance improvement isn't bad, as we're looking at a range of 5 - 10% increase in performance over Conroe.
Intel had a couple of notebooks setup, featuring mobile-Penryn vs. Merom. Intel let us run a couple of SSE4 benchmarks, both video encoding specific, to showcase some of the best case scenario performance improvements you can expect to see in notebooks.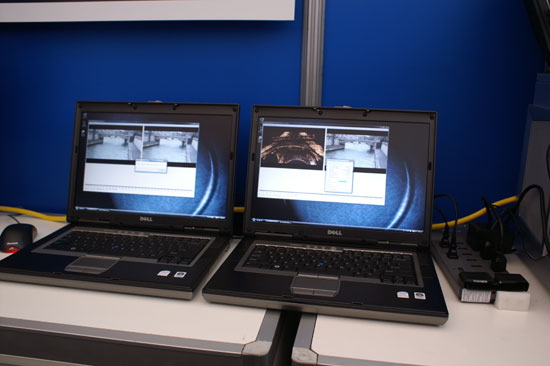 The notebooks, identical Dells with different CPUs, Penryn left, Merom right
The two systems were configured as follows:

Laptop System Configuration
Penryn System
Merom System
CPU
2.80GHz, 800MHz FSB
6MB L2, dual-core
Core 2 Duo T7800, 2.60GHz, 800MHz FSB
4MB L2, dual-core
System
Dell Latitude D830
Dell Latitude D830
Graphics
Intel GMA X3100
Intel GMA X3100
Graphics Driver
Intel 7.14.10.12.53
Intel 7.14.10.12.53
Memory
2 x 1GB Hynix DDR2-667
2 x 1GB Hynix DDR2-667
Hard Drive
Fujitsu MHW2080BH
80GB 5400RPM
Fujitsu MHW2080BH
80GB 5400RPM
OS
Windows Vista Ultimate 32-bit
Windows Vista Ultimate 32-bit
And the results:
Laptop Performance Results
Penryn System
Merom System
TMPGEnc 4.0 Express 4.3.3.9999 Beta
(seconds, lower is better)
151
239
DivX 6.6.1 w/ VirtualDub 1.7.2
(seconds, lower is better)
20.5
38.9
Since both benchmarks take advantage of SSE4, the Penryn performance improvement is significant. We'd expect overall performance improvement to be closer to what we saw in our Wolfdale preview. The power savings courtesy of Intel's 45nm process will be particularly important in notebooks as it directly impacts battery life, so we should see an added benefit of Penryn there. Do keep in mind that mobile-Penryn won't hit until next year, while the desktop Core 2 Extreme QX9650 will be available starting November 12.