Case Studies
In terms of appearances and design, we can without a doubt say that we've never seen anything quite like the Blackbird 002. It comes in a large, wedge-shaped case that sits on top of a stand, lifting the main chassis several inches off the ground. That might sound and even look a little precarious, but once you've actually picked up the case and moved it around your fears will be assuaged. HP states that the foot is capable of supporting up to 600 pounds, and after sitting on top of the case
(yes, all 190 pounds of me!)
and even bobbing up and down a little bit, we're pretty sure they're not exaggerating. Exactly why you would want a case that can support 600 pounds, we don't know, but it certainly is sturdy!
In fact, our earlier comparison of this computer with the SR-71 Blackbird probably chose the wrong aircraft, names notwithstanding. This thing is built like a tank, and an A-10 warthog might have been a more apt comparison. Much of the case appears to be made of aluminum, but a lot of the metal is so thick that you might feel the case is made of cast iron instead. The total weight is around 70 pounds for the test configuration, so all of you LAN party attendees looking to put on a little more muscle can simply haul one of these things around and kill two birds with one stone!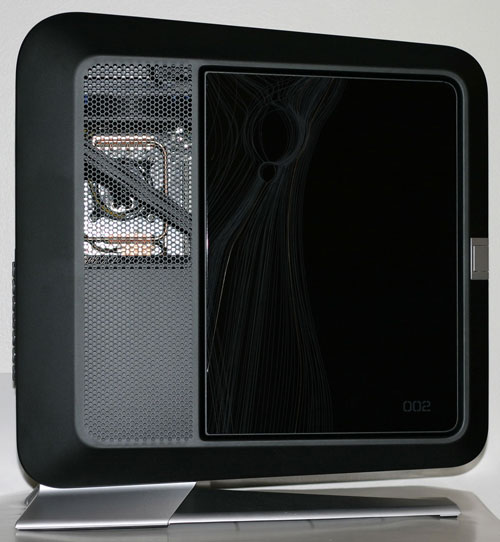 The case isn't the only reason for the weight, however, as HP includes a complete "maintenance free" water cooling system (designed by Asetek). There are three models of the Blackbird 002 available, and as far as we can tell only the top to include water cooling, but since the systems aren't actually available for purchase yet we weren't able to get the precise options. The model we were shipped certainly appears to be the absolute top-end design, as water cooling is used for the CPU as well as the two graphics cards. The motherboard chipset isn't water cooled, but the ASUS Striker motherboard already has an extensive heat pipe arrangement to handle that aspect of cooling.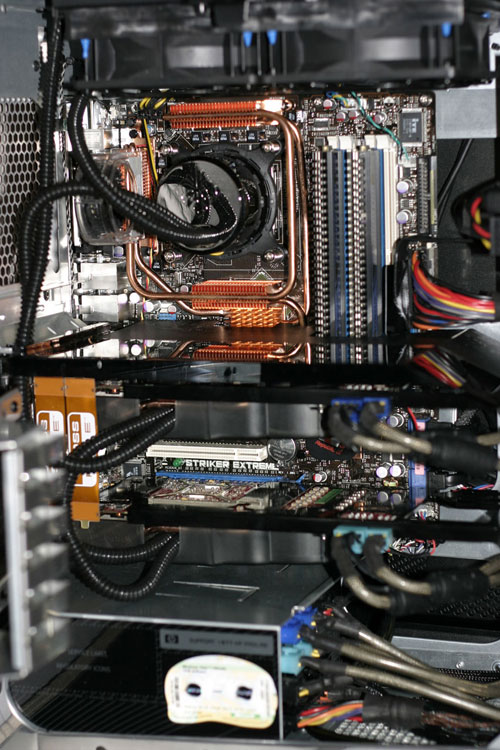 While we're on the subject of motherboards, the use of an ASUS Striker board also represents one of the better aspects of the Blackbird 002. This isn't a special locked down version of the ASUS Striker; you gain access to pretty much everything you would get with a regular ASUS board, which means that this is one of the best overclocking motherboards currently available. That approach doesn't end with the motherboard; besides the custom ATX case
(yes, ATX)
everything else uses standard off-the-shelf components. We don't necessarily advocate purchasing a computer with the intent of upgrading in the future, because new products and technologies are always coming out, but at least the Blackbird is as upgradeable as any DIY system.