What a year it has been for AMD and ATI. We have watched both companies go through pain and agony since their merger, as they experienced what can only be described as a perfect storm: we witnessed the return of Intel to CPU dominance and NVIDIA basically owned the DirectX 10 market for seven months before AMD/ATI could respond. Unfortunately, we are still waiting on the CPU response to the Core 2 series and the DirectX 10 GPU response was pretty much too little and too late. While we expect AMD will rebound shortly in the CPU and GPU markets, they have been very quiet on the chipset front since the merger.
We have the upcoming RD790 that looks like it will be the chipset to beat when Phenom launches late this year, but for the most part AMD is content with the current 690G/690V chipset until their replacements launch sometime next year. We will be looking in-depth at several 690G boards in Part Three of our uATX roundup series shortly, but for today we will take a look at the abandoned and somewhat ignored cousin of the 690G, the RS600.
The RS600/RD600 were ATI's planned answer last year to the G965/P965 duo from Intel, but unfortunately neither chipset launched on schedule and the AMD buyout of ATI further complicated the marketing plans for these chipsets. Eventually, the RD600 was picked up by DFI and had some modest success as a fairly quick and extremely flexible chipset that was burdened somewhat by a memory controller that was just a little slower than the Intel P965/975X. Also, the lack of Tier-1 acceptance and any serious follow-up support from AMD more or less doomed ATI's last performance chipset for the Intel platform.
While ATI basically owned the Intel white box market for the last few years, the majority of that business has gone to SiS with Intel now also providing its fair share of chipsets into this large and lucrative market. This market is where the RS600 was originally designed to compete, along with a promise to stay a couple of steps ahead of Intel in both features and video performance. ATI succeeded to some extent, but that pesky merger and resulting product decisions meant this chipset has been fighting an uphill battle all the way to its launch this past spring. Once again, there were no Tier-1 suppliers lined up and questions about support and follow-on products dogged the RS600 when it was released by abit in the uniquely designed Fatality F-I90HD.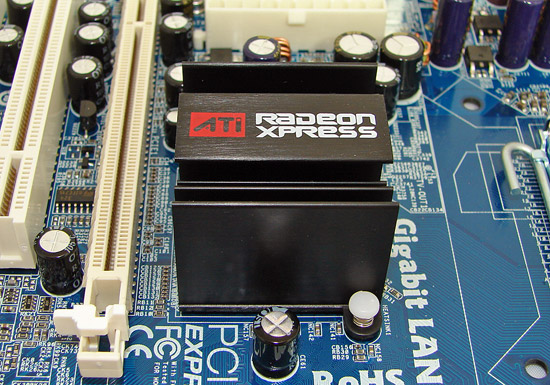 Our opinions about the basic performance of this chipset/motherboard were extremely positive at launch; however, it was as if somebody upstairs was out for ATI/AMD blood, as the boards started failing. We experienced it within a couple of weeks, as did others, and any positives that could have been made for marketing this chipset to other manufacturers probably fell on deaf ears. As it turns out, according to our sources at the time within abit, the initial production runs of the board had some quality issues and it was not a chipset problem. In fact, our second board has not failed after several hundred hours of daily usage and currently resides in one of our DVR machines.
Unfortunately, the initial BIOS support and commitment to solving issues by abit has waned over the past sixty days, and we feel the board deserves continued support. It was with great interest to us when ASRock called and wanted us to take a look at their new 4Core1333-FullHD based on the RS600. This board promises full 1080p playback capabilities and the latest support for Intel's recently introduced 1333MHz FSB processors, although this support means auto-overclocking the FSB to 333.
Now that we have two RS600 boards it would be quite easy to do a comparison of AMD's current Intel based IGP solution against the latest Intel offering, the G33. We have not been kind towards Intel's IGP solutions, as we feel like the continued minimum functionality in their graphics solutions (not to mention driver concerns) creates issues with developers wanting to move forward but always ensuring their products run on the lowest common denominator platform. That platform has historically been Intel-based as they are the world's largest graphics provider, although we wonder at times if they understand the importance of this fact.
This is not to say any of the AMD and NVIDIA IGP solutions are that much better; they are in many ways, but without earnest competition from Intel these solutions do just enough to stay ahead of Intel. However, at least these solutions provide a much higher degree of compatibility and performance with most games, video playback, and applications. While running the latest games such as Bioshock or Supreme Commander will require a resolution of 800x600 with medium-low quality settings, at least a user has the chance to play the game until they can afford a better performing video solution.
Of course, it is not all about gaming with these platforms, but even in video playback and general application performance we see better solutions from Intel's competitors. Hopefully, this will change with the upcoming G35 chipset from Intel, but we are not holding our breath.
Let's take a quick look at the specifications of the AMD RS600 chipset and its performance against a similarly priced G33 solution today.