Introduction
PC Club is one of the medium-sized computer resellers in the US, with 37 locations scattered across the western US (as well as a couple of stores in Oklahoma). We've looked at some of their
previous offerings
, and have found that they tend to target the middle ground. Their desktops may not be as exotic as some offerings, but the use of off-the-shelf components can put them one step ahead of the large OEMs when it comes to enthusiasts and those looking to squeeze just a little bit more power out of a system. They recently sent us their latest Enpower notebook offering, based on Intel's Santa Rosa platform. Their primary goal was to create a notebook that would be suitable for high school and college students - all while trying to stay affordable.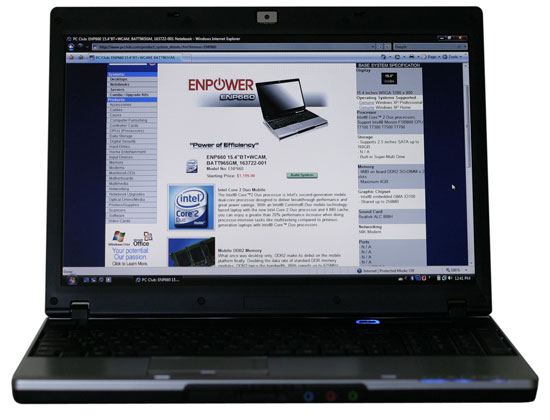 The PC Club Enpower ENP660 uses an MSI design with a few minor tweaks to the exterior. The system is based off of MSI's MS-1637 barebones notebook, and other than the Enpower logo on the cover we aren't aware of any differences between PC Club's offering and MSI branded models. Of course, by purchasing the computer from PC Club you get to deal with them when it comes to support and warranty issues, and particularly for those who live near a PC Club store that might be reason enough to choose the Enpower over a stock MS-1637. You also get to customize your laptop according to PC Club's components, which will generally make things easier when it comes to picking parts but it will also limit your choices somewhat. A quick look at prices indicates PC Club charges a modest fee to put the system together - $100 or so by our estimate.
With starting prices of $1200, some people might feel the notebook is a little bit more expensive than they would like. While it's true that there are cheaper notebooks out there, by the time you get the level of performance in this PC Club laptop you will almost certainly have to spend more than $1100. Let's take a closer look at the Enpower ENP660 and see what it has to offer.