OCZ PC3-14400 Platinum Edition
In the last several years, OCZ has developed a deserved reputation as a true innovator in the computer enthusiast market. They were the first of the memory companies to market high-end, high-quality power supplies, a product offering now available from other memory companies as well. OCZ cemented that relationship with the power supply market with their recent acquisition of PC Power and Cooling - a well-regarded player in the high-end PSU market. OCZ has also begun to market high-end video cards under their own brand name, something Crucial has done for several years.
In the end, if you're part of the computer enthusiast community, OCZ has been constantly introducing new and innovative products for that market, from ram cooling to CPU coolers to video cards to the very latest in memory technology. While most enthusiasts recognize OCZ as a memory company, many these days also recognize them for their power supplies, CPU coolers, or other products.
OCZ maintains an up-to-date website that provides specifics for their products. They are also represented on many forum sites, and they maintain dedicated forums for OCZ products on several websites. OCZ memory products come with a lifetime warranty.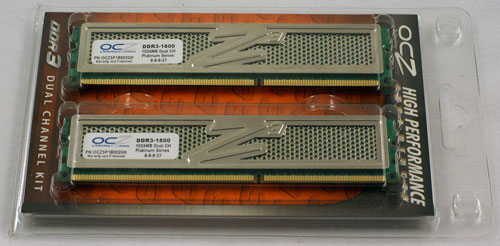 Like several other manufacturers, OCZ has moved to the smaller dual-channel clear clamshell package for memory kits. The card in the memory package is now a 4-page glossy instruction sheet with information on the features and installation of the memory.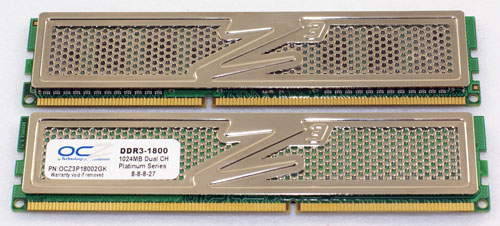 The DIMMs themselves are also easily recognized as OCZ with the large "Z" in the middle of the perforated XTC (Xtreme Thermal Convection) heatsink design. The XTC heatsinks are a familiar sight on high-end OCZ memory. OCZ tests and certifies the memory for DDR3-1800 8-8-8 performance on ASUS DDR3 boards. Like the other DDR3 DIMMs based on Micron Z9 memory, the OCZ DIMMs are single-sided 1GB parts. That means 2GB parts and 4GB kits are definitely a possibility in the future, when chip availability improves and the very high memory chip prices drop. Performance and timings would likely be somewhat below current specs in a 4GB kit.
OCZ PC3-14400 Platinum Edition
Memory Specifications
Number of DIMMs & Banks
2 SS
DIMM Size
1 GB
Total Memory
2 GB (2 x 1GB)
Rated Timings
8-8-8-27 at DDR3-1800
Rated Voltage
1.9V (Standard 1.5V)
DDR3 is lower voltage, higher speed and slower timings than DDR2. The chart below was published in our introduction to DDR3 and summarizes some of the differences in the official JEDEC DDR2 and DDR3 specifications.
JEDEC Memory Specifications
 
DDR2
DDR3
Rated Speed
400-800 Mbps
800-1600 Mbps
Vdd/Vddq
1.8V +/- 0.1V
1.5V +/- 0.075V
Internal Banks
4
8
Termination
Limited
All DQ signals
Topology
Conventional T
Fly-by
Driver Control
OCD Calibration
Self Calibration with ZQ
Thermal Sensor
No
Yes (Optional)
JEDEC specs a starting point for enthusiast memory companies. However, since there was never a JEDEC standard for memory faster than DDR-400 then DDR memory running at faster speeds is really overclocked DDR-400. Similarly DDR2 memory faster than DDR2-800 is actually overclocked DDR2-800 since there is currently no official JEDEC spec for DDR2-1066. DDR speeds ran to DDR-400, DDR2 has official specs from 400 to 800, and DDR3 will extend this from 800 to 1600 based on the current JEDEC specification.
The OCZ PC3-14400 is the first DDR3 we have tested with a rated 1800 MHz or higher speed. It also offers somewhat lower specified latencies of 8-8-8 at 1.9V. The OCZ DDR3-1800 is available as single 1GB DIMMs or a 2GB kit providing a matched pair of 1GB DIMMs.