Serenity (VC-1) Performance
We haven't yet found a VC-1 title to match either of the H.264 titles we tested in complexity or bitrate, so we decided to stick with our tried and true test of Serenity. The main event here is in determining the real advantage of including VC-1 bitstream decoding on the GPU. NVIDIA's claim is that this is not as complex as it is under H.264 so it isn't necessary. AMD is pushing their solution as more complete, but does it really matter? Let's take a look.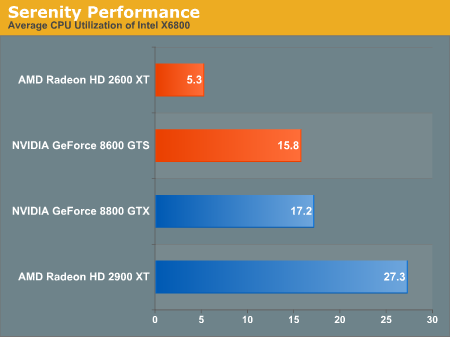 Our HD 2900 XT has the highest CPU utilization, while the 8600 GTS and 8800 GTS share roughly the same performance. The HD 2600 XT leads the pack with an incredibly low CPU overhead of just 5 percent. This is probably approaching the minimum overhead of AACS handling and disk accesses through PowerDVD, which is very impressive. At the same time, the savings with GPU bitstream decode are not as impressive under VC-1 as on H.264 on the high end.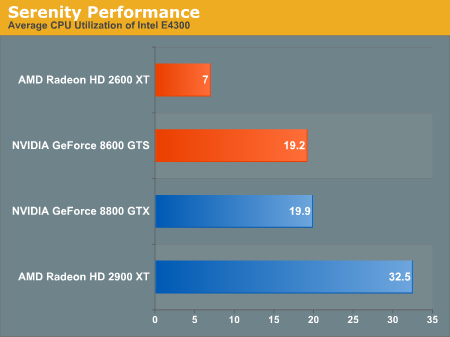 Dropping down in processor power doesn't heavily impact CPU overhead in the case of VC-1.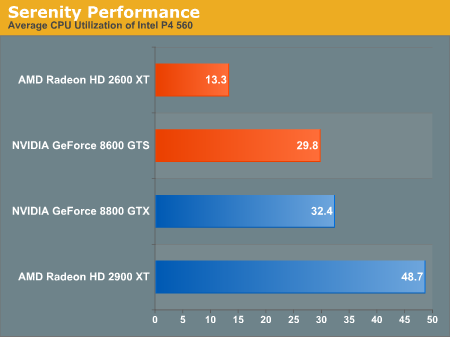 Moving all the way down to a Pentium 4 based processor, we do see higher CPU utilization across the board. The difference isn't as great as under H.264, and, not only that, but VC-1 movies appear to remain very playable on this hardware even without bitstream decoding on the GPU. This is not the case for our H.264 movies. While we wouldn't recommend it with the HD 2900 XT, we could even consider looking at a (fairly fast) single core CPU the other hardware, with or without full decode acceleration.