Introduction
The current generation of graphics hardware is capable of delivering high definition video with lower CPU utilization and better quality than ever. Armed with the most recent drivers from AMD and NVIDIA we have spent quite a bit of time testing and analyzing the current state of HD playback on the GPU. And we have to say that while there are certainly some very high points here, we have our concerns as well.
Since the last time we
tested HD playback performance on the 8600 line
, we have seen software support improve dramatically. PowerDVD, especially, has come quite a long way and now fully supports both AMD and NVIDIA hardware with full hardware acceleration and is quite stable. Drivers from both camps have also now added HD video quality improvements in the form of post processing to their drivers. HD deinterlacing and noise reduction now (mostly) work as we would expect. This is in contrast to the across the board scores of 0 under HD HQV we saw earlier this year.
This will be the first time we test AMD's new R600 and RV6xx based graphics cards using our video decode tests. Our RV6xx based Radeon HD 2600 and 2400 hardware features AMD's UVD video decode pipeline that accelerates 100% of the HD video decode process on all codecs supported by HD-DVD and Blu-ray. NVIDIA's hardware falls short of AMD's offering in the VC-1 bitstream decoding department, as it leaves this task up to the CPU. We will try to evaluate just how much of an impact this difference will really offer end users.
Here's a breakdown of the decode features for the hardware we will be testing: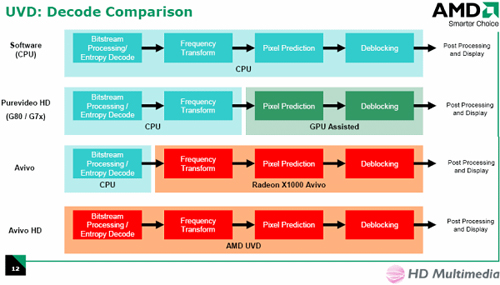 While the R600 based Radeon HD 2900 XT only supports the features listed as "Avivo", G84 and G86 based hardware comprise the Avivo HD feature set (100% GPU offload) for all but VC-1 decoding (where decode support is the same as the HD 2900 XT, lacking only bitstream processing).
With software and driver support finally coming up to speed, we will begin to be able to answer the questions that fill in the gaps with the quality and efficacy of AMD and NVIDIA's mainstream hardware. These new parts are sorely lacking in 3D performance, and we've been very disappointed with what they've had to offer. Neither camp has yet provided a midrange solution that bridges the gap between cost effective and acceptable gaming performance (especially under current DX10 applications).
Many have claimed that HTPC and video enthusiasts will be able to find value in low end current generation hardware. We will certainly address this issue as well.