Yozakura (High Complexity H.264) Performance
H.264 offers quite a range of options, and we haven't seen everyone taking advantage of some of the more advanced features. Yozakura is encoded in 1080i at 25 Mbps. This is fairly low for H.264 maximums, but this is still very CPU intensive because the video is encoded using macroblock adaptive frame/field (MBAFF) coding. MBAFF is a high quality technique to ensure maximum visual fidelity in interlaced video by adaptively selecting frame or field encoding per macroblock based on a motion threshold.
While 1080p is clearly Hollywood's choice of resolution, there is 1080i encoded content out there now and more likely to come. As TV shows transition to HD, we will likely see 1080i as the choice format due to the fact that this is the format in which most HDTV channels are broadcast (over-the-air and otherwise), 720p being the other option. It's nice to know that H.264 offers high quality interlaced HD encoding options, and we hope content authors who decide to release their creations in 1080i will take advantage of things like MBAFF.
Additionally, good deinterlacing is essential for getting a good experience with movies like this. Poorly deinterlaced HD content is not only sad to watch, but gives this author quite a headache. Jaggies and feathering are horrible distractions at this resolution. As long as you stick with an HD 2600 or GeForce 8600 series or higher you should be fine here. Any slower just won't cut it when trying to watch 1080i on a progressive scan display.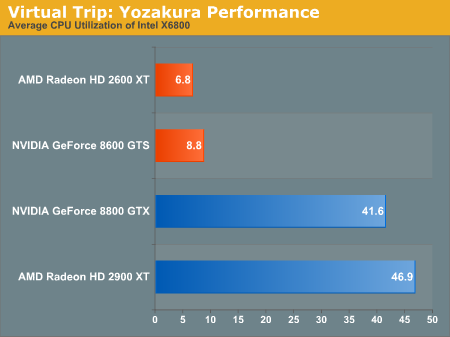 Our high end CPU is able to cope fairly well, with the 8800 GTX besting the 2900 XT in performance while UVD leads VP2 putting the 2600 XT ahead of the 8600 GTS.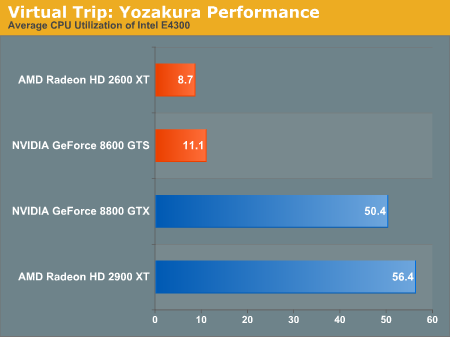 For our cheap yet current processor, we do see utilization go up, but the hardware with bitstream decoding maintains very low overhead. All of our GPUs maintain good performance when paired with this level of processor. Of course, we would likely not see the high end GPUs matched with such a CPU (unless we are looking at notebooks, but that's a whole other article).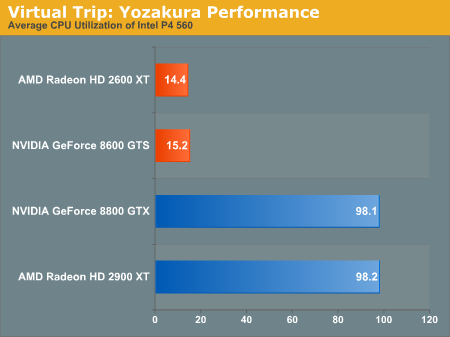 For our older hardware, Yozakura is simply not watchable without bitstream decoding. With the numbers for the high end AMD and NVIDIA GPUs even worse than under our Transporter 2 trailer test, it's clear that NetBurst does not like whatever Yozakura is doing. It may be that decoding the bitstream when MBAFF is used is branch heavy causing lots of stalls. All we can say for sure is that, once again, GPU accelerated bitstream decoding is necessary to watch H.264 content on older/slower hardware.