The Million Dollar Question: Dual or Quad Core for the Same Price?
Before talk of Intel's July 22nd price cuts surfaced, we were hardly ever asked the question "dual or quad", simply because the price differential was so great. After next week everything changes, as you'll be able to pick up a quad-core Q6600 (2.4GHz) for a measly $266. At the same time, you could get a much higher clocked dual-core E6850 (3.0GHz) for the exact same price - so which do you pick?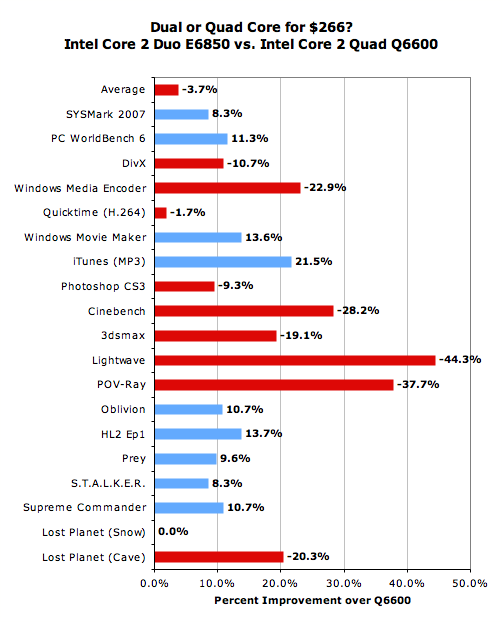 This graph is a lot more colorful than our previous ones because the decision just isn't that clear. If you look at the average, quad-core gains an advantage over dual-core over all of our benchmarks, but if you look at the tests themselves you'll see some trends. Encoding and 3D manipulation benchmarks have the quad-core CPU clearly ahead, while general usage and gaming benchmarks mostly favor the higher clocked dual-core E6850. So, which do you choose?
If you're strictly building a gaming box, you'll get more performance out of the dual-core E6850. However, if you do any encoding or 3D rendering at all, the quad-core Q6600 is a better buy. Our pick is the Q6600 and if you want to make up the performance difference you can always overclock to E6850 speeds, but the chip only makes sense if you're running apps that can take advantage of four cores. As the chart above illustrates, those applications are almost exclusively limited to video encoding and 3D rendering.