GMG Inc.
has been providing a variety of drive enclosures since 2000. Galaxy Metal Gear Box provides several external drive enclosure designs with an emphasis on USB 2.0, Firewire (IEEE 1394), and SATA interface technologies. They are utilizing their enclosure expertise to expand their product portfolio and are now offering
Digital Media
gateway products.
We will be taking a look at the 5202 Galaxy series in the near future that offers internal drive support for either a standard 5.25" Optical drive or a 3.5" hard drive based on the SATA standard. A variety of interface options are available including Galaxy's first eSATA implementation.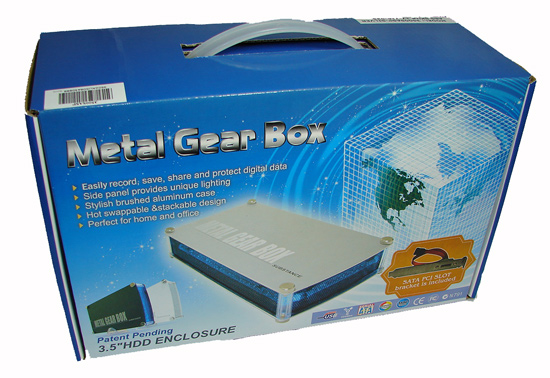 Our review today centers on the Galaxy Metal Gear Box series of enclosures with our unit featuring a SATA/USB 2.0 interface. Unlike our recent review of the ICY DOCK MB559US-1SMB that featured an eSATA interface, our Galaxy unit uses the standard SATA interface. While performance is very similar between the two units the question of portability comes into play from a performance aspect.
The Galaxy unit ships with a SATA bracket that connects to an internal SATA port on the motherboard. This is basically a fixed design concept unless you have the ability to run a SATA cable directly to the motherboard port from the enclosure. Of course you can still utilize the USB 2.0 port if you are on the go, but the Galaxy enclosure defeats the performance and portability advantages of eSATA equipped systems.
However, the unit is priced around $30 and is really designed for the user that needs to quickly add an external drive to a system. This allows the user to take advantage of the SATA interface for its inherent performance advantages but it can also serve in a pinch as a portable drive via the USB 2.0 interface. Let's now find out how Galaxy's most popular SATA drive enclosure performs today.