DirectX 9 vs. DirectX 10
Here we'll take a closer look at some of the scaling differences between DirectX 9 and DirectX 10 on current hardware under current drivers with Company of Heroes and Lost Planet.
First up is a look at relative scaling between cards under each API. The idea is to see whether cards that perform better under DX9 also perform better under DX10 (and vice versa). This will only give us a glimpse at what could happen going forward, as every game (and every implementation of that game) will be different.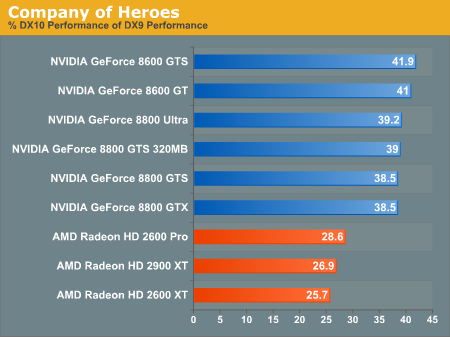 For Company of Heroes, we see huge performance drops in moving to DirectX 10 from DirectX 9. The new lighting and shadowing techniques combined with liberal geometry shader use are responsible for at least halving performance when running the more detailed DX10 path. NVIDIA seems to handle the new features Relic added better than AMD. These results are especially impressive remembering that NVIDIA already outperformed AMD hardware under DX9.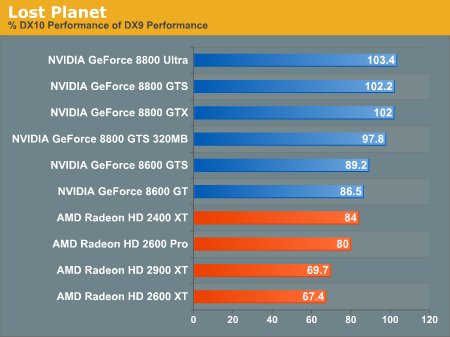 Lost Planet is a completely different animal. With Capcom going for a performance boost under DX10, we can see that they actually succeeded with the top of the line NVIDIA cards. There isn't much else enticing about the DX10 version of Lost planet, and it's clear that AMD's drivers haven't been optimized to tackle this game quite yet.
Next we want to take a look at AA scaling difference between DirectX 9 and DirectX 10. Can we expect less impact from AA on one API or the other? Let's take a look.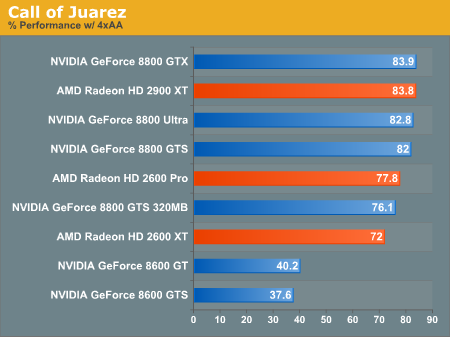 Under Call of Juarez, our low-end NVIDIA cards suffer from a huge drop in performance when AA is enabled. This is likely due to the fact that they can't handle either the bandwidth or the shader requirements of Techland's HDR correct AA. The higher end parts seem to handle the AA method fairly well, though certainly NVIDIA would be happier if the retained their hardware AA advantage.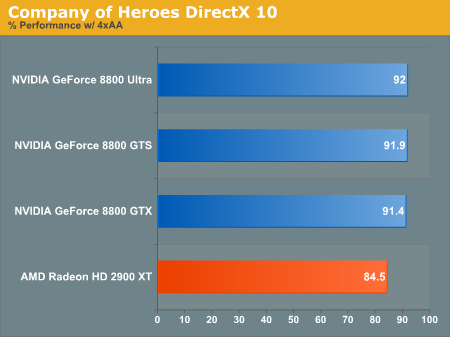 For our DX10 Company of Heroes test, which does use hardware MSAA resolve where available, AMD hardware scales much worse than NVIDIA hardware.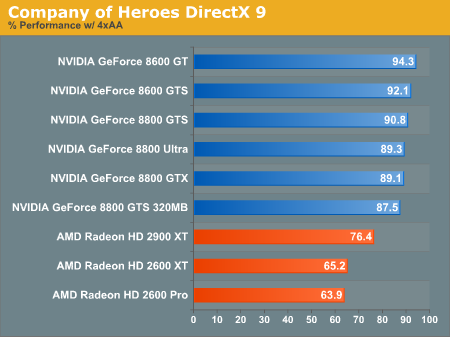 All of our cards scale worse under DX9 when enabling 4xAA than under DX10. While we don't have enough information to really understand why that is under Company of Heroes, it is certainly interesting to see some sort of across the board performance advantage for DX10 (even if it is in a round about way).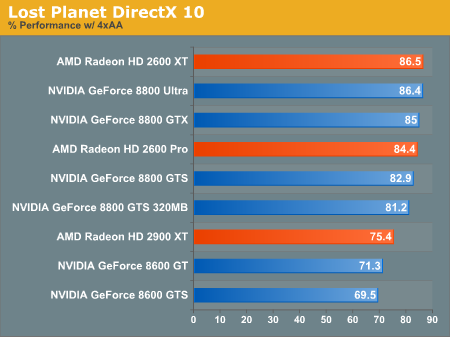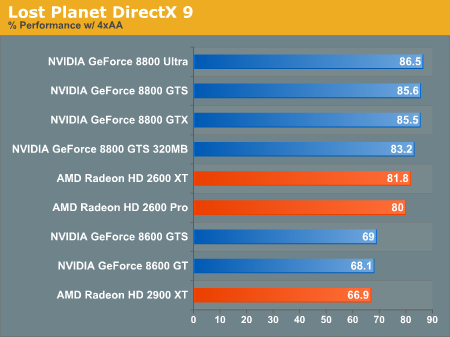 Lost Planet, with its attempt to improve performance by moving to DX10, delivers very similar performance impact from AA in either DX9 or DX10. Again we see a very slight scaling advantage in favor of DX10 (especially with AMD hardware), but nothing life changing.