Lost Planet: Extreme Condition
Lost Planet: Extreme Condition is a port of an Xbox 360 game. Well, to be honest, it's almost as if they just tacked on support for a keyboard and mouse and recompiled it for Windows on x86 hardware. While we haven't done a full review of the game, only playing through the intro and first mission, our initial assessment is that this is absolutely the worst console port ever.
Unless you have an Xbox 360 controller for your PC, the game is almost unplayable. The menus are clunky and difficult to navigate. Moving in and out of different sections of the main menu requires combinations of left and right clicking, which is patently absurd. If during gameplay you wish to change resolutions, you must click the mouse no less than a dozen times. This does not include the need to navigate menus through hovering (who does that?) and the click required to grab the scroll bar in the settings menu.
The console shooter has always had to work hard to compete with the PC. Halo and Halo 2 did quite a good job of stepping up to the plate, and Gears of War really hit one out of the park. But simply porting a mediocre console shooter to the PC does not a great game make.
That said, if you can get past the clunky controls and stunted interface, the visuals in this game are quite stunning. It can also actually be fun and satisfying to shoot up a bunch of Akrid. Our first impression is that a good game could be buried underneath all of the problems inherent in the PC port of Lost Planet, but we'll have to take a closer look to draw a final conclusion on this one.
For now, the important information to take away is what we get from the DirectX 10 version of the game. While we haven't found an explicit list of the differences, our understanding is that the features are generally the same. Under DirectX 10, gamers can choose a "high" shadow quality option while DX9 is limited to "medium". Other than this, it seems lighting is slightly different (though not really better) under DX10. From what we've seen reported, Capcom's goal with DX10 on Lost Planet is to increase performance over their DX9 version.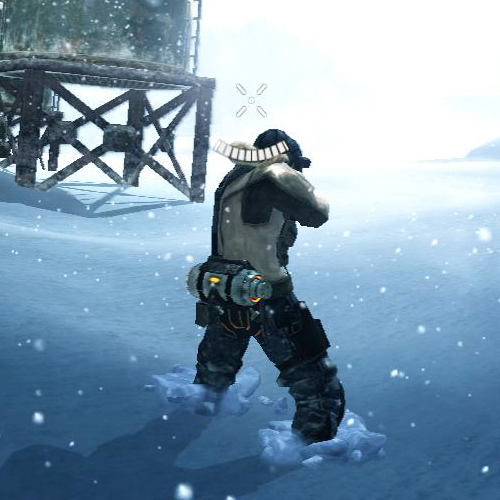 Lost Planet DirectX 9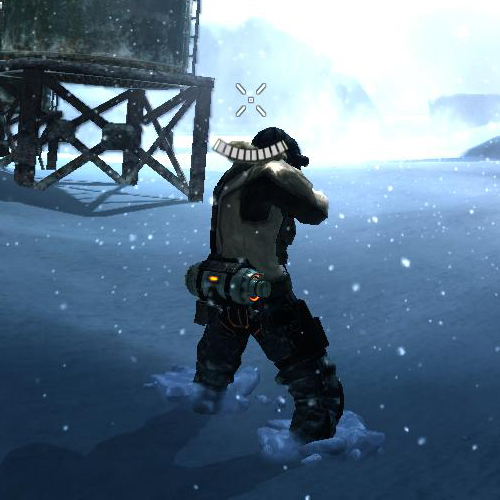 Lost Planet DirectX 10
In order to make as straightforward a comparison as possible, we used the same settings under DX9 and DX10 (meaning everything on high except for shadow quality).
DirectX 9 Tests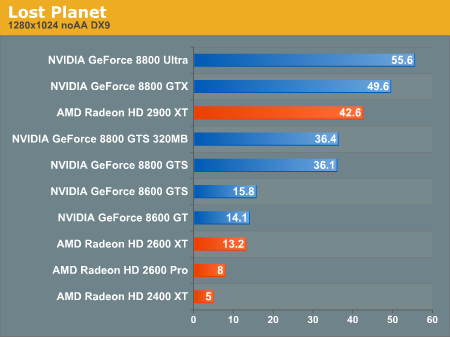 Lost Planet DX9 Performance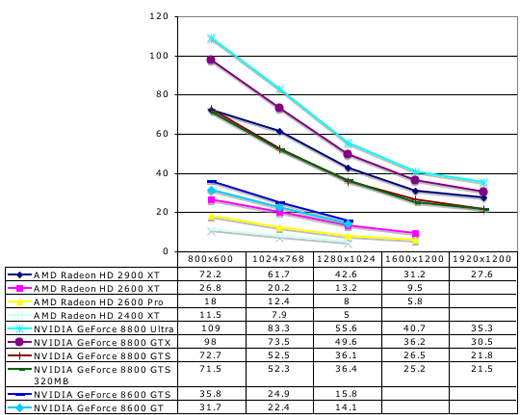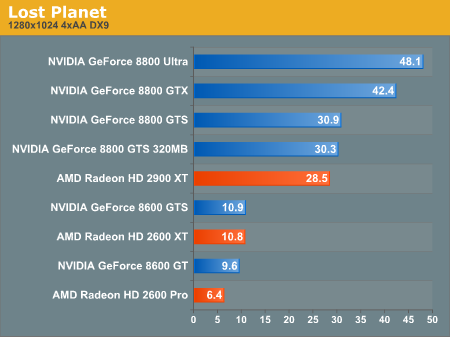 Lost Planet 4xAA DX9 Performance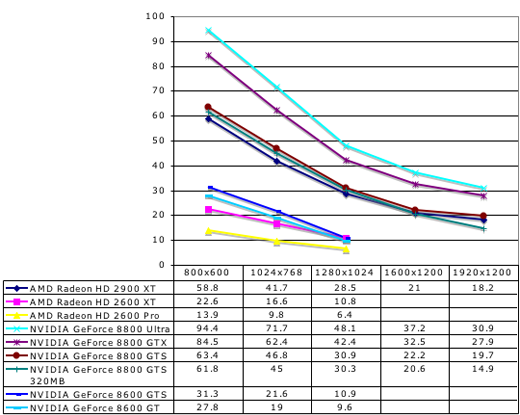 While it's difficult not to feel like a broken record, we need to disable quite a few settings to get our low-end cards playable. In this case, even under DX9 without AA enabled they don't perform well. We are planning on testing the 8500 and 8400 in the near future and we'll be sure and go back to see if we can run DX10 tests at low enough settings to get interesting results for these budget and mainstream parts.
Also, once again, the 2900 XT performs well under DX9, but slips a little behind with 4xAA due to it's lack of MSAA resolve hardware.
DirectX 10 Tests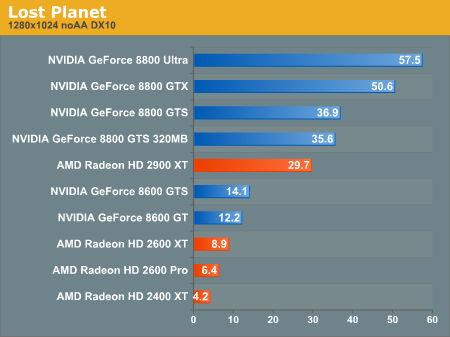 Lost Planet DX10 Performance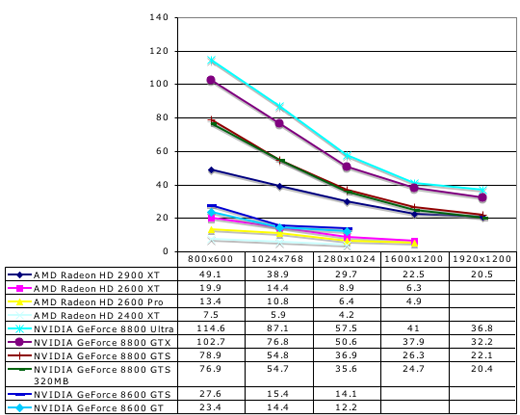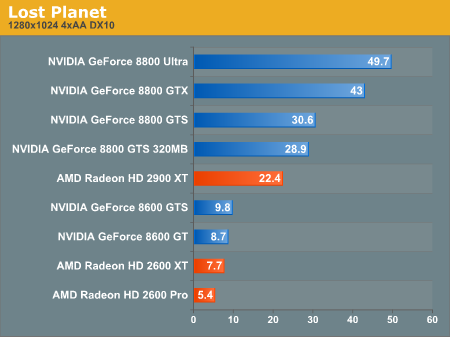 Lost Planet 4xAA DX10 Performance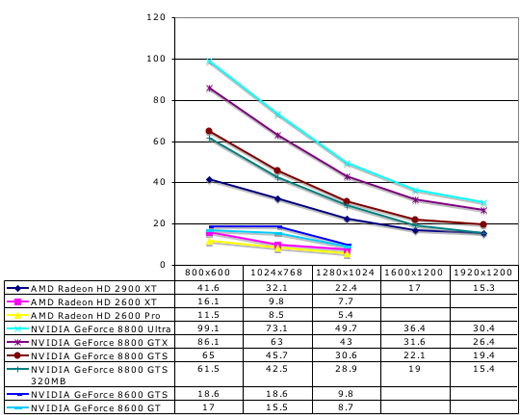 Incredibly, NVIDIA's 162 drivers combined with the retail version of Lost Planet actually deliver roughly equivalent performance on DX9 and DX10. While Capcom's goal is higher performance under DX10, we would still expect that AMD and NVIDIA both have a long way to go in bringing their DX10 drivers up to parity with the quality of their DX9 drivers.