In our continuing quest for the best top-end air cooler it has been interesting to see the heatpipe towers pull to the front of the pack. Coolers like the Thermalright Ultra-120 eXtreme and the Ultra-120, the Tuniq Tower 120, and the Scythe Ninja Plus 2 with push-pull fans have topped our all-time performance charts. They are all very similar in concept, with a vertical heatpipe array supporting horizontal fins with cooling from a side-mounted 120mm fan. More heatpipes have generally meant better cooling performance, at least in coolers from the same manufacturer.
Readers have pointed out that this cooler configuration probably is not the best for cooling motherboard components as well the CPU, and yet we find this type of cooler doing well enough in cooling the systems to consistently rise to the top of the performance charts. Logically a cooler with heatpipes and a fan blowing down
should
perform better, but our testing of the Cooler Master GeminII showed this was not the case. The GeminII is a decent cooler at stock speeds, but it just does not compete very well or cool well enough at higher Core 2 Duo overclocks.
The answer, according to some readers, is to test more of the down-blowing coolers, as the ones we've tested just can't be representative of a class that has to be better. So here we go again with the down-blowing coolers, and this time we are testing two of the most highly advertised on the market - namely the Scythe Andy Samurai Master and the Thermaltake MaxOrb.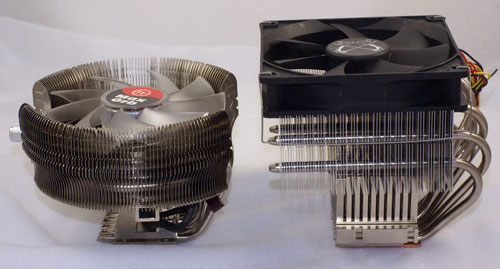 As you can see in the side-by-side comparisons, both these coolers are fairly massive for CPU toppers. The MaxOrb is smaller and is similar in appearance to the older Zalman coolers like the 7000 and 7700. However, the MaxOrb is still large enough to mount an integral 110mm fan. As you will see in the specifications, the MaxOrb is also much lighter than the Andy Samurai, weighing in at a very svelte and moving friendly 465g.
Another significant difference in the two coolers is that any 120mm x 25mm fan should mount on the Scythe, where the Thermaltake 110mm fan is embedded and not changeable. To make up for this Thermaltake has thoughtfully included a rheostat for fan speed adjustment right on the fan, and the adjustment range is specified as 1300-2000rpm with a 2000rpm output of very high 86.5cfm. The on-cooler speed control is handy - at least until you close your case.