Introduction
There has been a lot of talk over the past week about the fact that the Radeon HD 2900 XT lacks UVD (Universal Video Decode) hardware for HD video decode acceleration on the GPU. We've seen sites from The Tech Report to DailyTech, and even Beyond3D reporting on the situation. While there is much discussion already out there, we would like to provide our take on things.
To recap, the situation is as follows. A huge number of press and channel partners were given the impression by AMD that their R600 GPU used to build the new Radeon HD 2900 XT contained UVD hardware. AMD's press materials are incredibly vague about the issue: they never explicitly state that the HD 2900 XT does or does not physically have UVD hardware. They do list R600 as having
AVIVO HD
, which they explained includes GPU offload of the entire video decode pipeline in their press materials.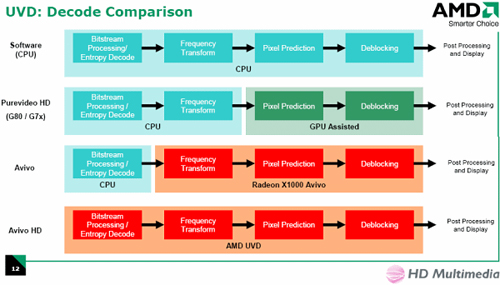 In other slides and presentations, AVIVO HD and UVD have been presented as synonymous. As the entire HD 2000 line is supposed to support AVIVO HD, how could we assume that UVD hardware wasn't included on the GPU?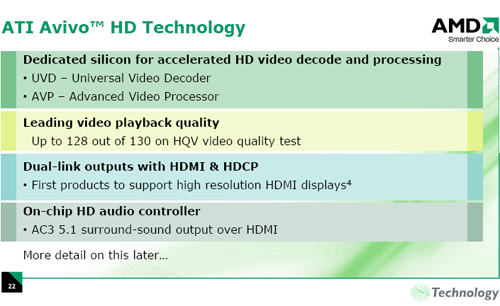 It seems that AMD is now trying to make it clear that R600 (the 80nm GPU for the HD 2900 XT) does not include UVD, but supports the same video decode features as the X1950. Dedicated hardware makes a big difference in entropy decoding, as we've seen with our G86 testing, but neither NVIDIA nor AMD have top end parts with full spec video decode offloading. The rationale is that high-end GPUs will be paired with CPUs capable of decoding any HD video thrown at them.
With such a huge volume of information to absorb, it seems reasonable to think that some details could get lost in the mix. But, while AMD never actually said anything untrue, they did omit details which could have easily clarified the situation. Walk with us through our experience and see for yourselves how we came to our conclusions.