Disk Controller Performance
The AnandTech iPeak test is designed to measure "pure" hard disk controller performance, and in this case we keep the hard drive as consistent as possible while varying the hard drive controller. The idea is to measure the performance of each hard drive controller with the same hard drive. We report the scores as an average number of I/O operations per second so that higher scores translate into better performance. This number is somewhat meaningless as far as hard disk performance is concerned; however, the scores are useful for comparing "pure" performance of the storage controllers in this case. Results are taken from trace files of Winstones 2004. Due to compatibility issues with Vista, our IPEAK tests are run on Windows XP SP2.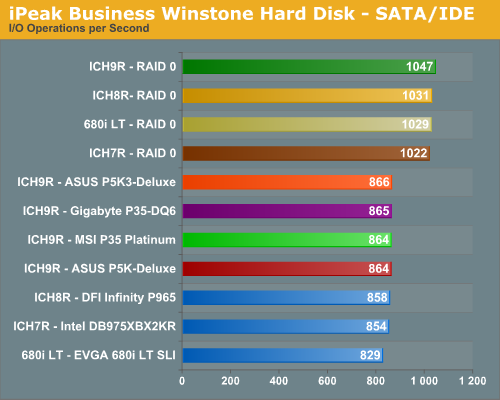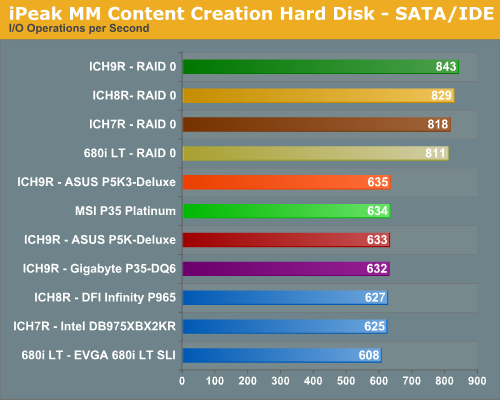 The performance patterns hold steady across both Multimedia Content I/O and Business I/O with the ICH9R outperforming the Intel ICH7R, Intel ICH8R, and NVIDIA 680i chipsets in our tests. Intel told us we should see up to a 4% difference between the ICH9 and ICH8; while our tests do not reveal that, we have noticed a difference in actual usage within Vista, especially when transferring large files. We will have Vista specific tests in the near future. Although our NVIDIA boards generally score lower in these "pure" throughput tests, we find their actual performance in disk intensive applications are generally equal to other solutions during actual usage. We did not experience any RAID 0 issues with the NV controller or drivers under Vista during normal usage but users have reported their RAID arrays degrading over time. We are still investigating these issues.
Power Consumption
As always, we measured power consumption at two states: at idle sitting at the Vista desktop and under load while running our 3DMark06 and Company of Heroes benchmarks. At both settings, EIST/C1E were disabled to show power usage with the system in a normal desktop state.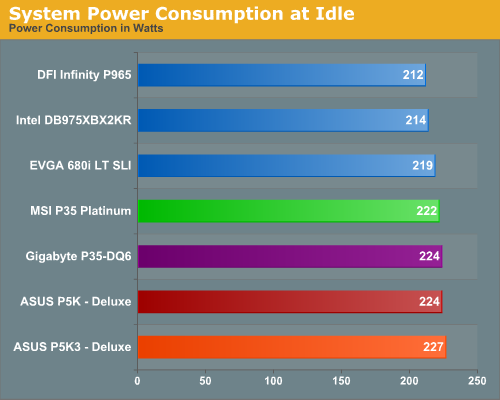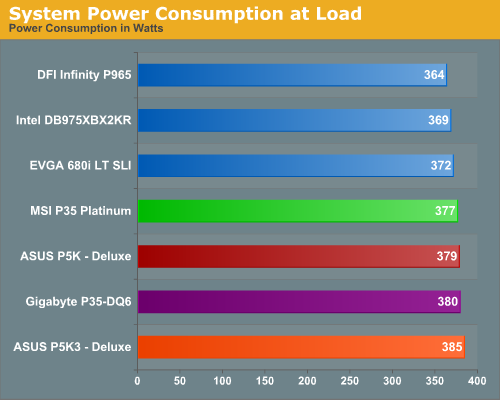 The surprise is that despite a 16W TDP, the P35 boards actually consume more power than the other chipsets at both idle and load. Even though the DDR3 board has a lower power rating for the memory, it consumes more power than the DDR2 board due to additional circuitry . We can no longer say that NVIDIA is the only high performance chipset approved by OPEC.
FSB Overclocking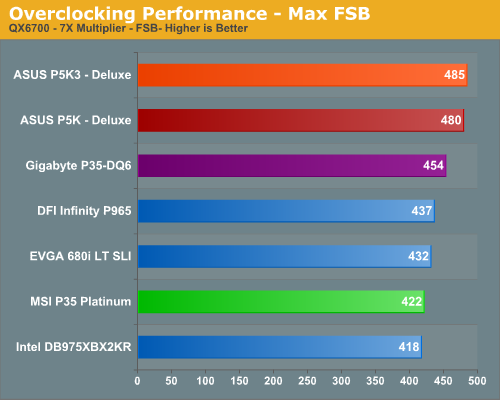 Our FSB overclocking results are limited to the quad core QX6700 for this article. We will greatly expand our overclocking results for the roundup that will include five different CPUs. Our ASUS boards overclock the quad core the best at this time thanks to a fairly mature BIOS and great board design. Our Gigabyte and MSI boards have improved greatly over the last week with new BIOS designs and we expect overclocking to improve before the official launch date. In limited testing with the E6600, we were able to hit a 576 FSB on the ASUS boards, 514 on the Gigabyte board, and 508 on the MSI board with the latest BIOS releases.