Power Supply Requirements
With new product launches, we expect to see increased power requirements for increased performance. With the 8800 series, we saw hardware that offered excellent performance without breaking the bank on power, while the highest end part available required two PCIe power connectors. We can forgive the power gluttony of the 8800 GTX as the 8800 GTS offers terrific performance with a more efficient use of power.
R600 goes in another direction. We have a new part that doesn't compete with the high end hardware but has even more stringent power requirements. While NVIDIA's $400 hardware offered good power efficiency, AMD's Radeon HD 2900 XT eats power for breakfast. In fact, with the R600, we see the first use of PCIe 2.0 power connectors. These expand on the current 6-pin power connector to offer up to 150W over an 8-pin configuration.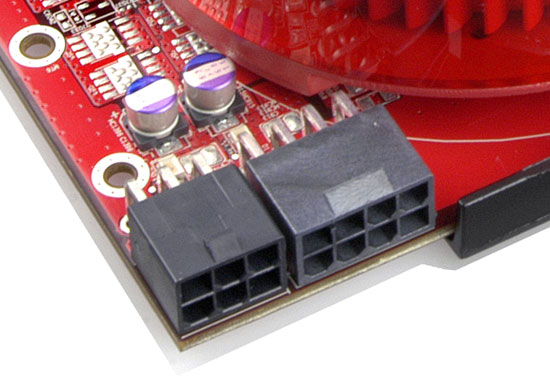 The 8-pin PCIe 2.0 power connector enables graphics cards to pull up to 300W of power just for themselves. With 75W delivered through the slot, 75W through a 6-pin PCIe power cable, and 150W sliding down the PCIe 2.0 wire, the R600 has plenty of juice on tap. While it doesn't pull a full 300W in any test we ran, overdrive won't be able to function without the combination of a 6-pin and 8-pin connector.
All is not lost, however, as two 6-pin connectors will still be able to power the R600 for normal operation. The 8-pin receptacle will accept a 6-pin cable leaving two holes empty. This doesn't degrade performance when running R600 at normal clock speeds, but overclocking will be affected without the added power.
The bottom line as we'll shortly show is that AMD has built hardware with the performance of an 8800 GTS in a power envelope beyond the 8800 Ultra. We will take a closer look in our performance benchmarks when we actually test power draw under idle and load using 3dmark06.
The Test
CPU:
Intel Core 2 Extreme X6800 (2.93GHz/4MB)
Motherboard:
EVGA nForce 680i SLI
ASUS P5W-DH
Chipset:
NVIDIA nForce 680i SLI
Intel 975X
Chipset Drivers:
Intel 8.2.0.1014
NVIDIA nForce 9.53
Hard Disk:
Seagate 7200.7 160GB SATA
Memory:
Corsair XMS2 DDR2-800 4-4-4-12 (1GB x 2)
Video Card:
Various
Video Drivers:
ATI Catalyst 8.37
NVIDIA ForceWare 158.22
Desktop Resolution:
2560 x 1600 - 32-bit @ 60Hz
OS:
Windows XP Professional SP2