Centrino has been with us now for four years and for the fifth time since its introduction, we are seeing the platform updated. You've been hearing about this most recent Centrino upgrade for almost a full year; originally due out in Q1 2007, Intel's latest Centrino platform codenamed Santa Rosa has been a bit delayed.
The road to Santa Rosa has been a ridiculously successful one for Intel. The first Centrino platform was introduced in March of 2003 under the codename Carmel. The Carmel platform featured the very first Centrino CPU, codenamed Banias. Adding the first mobile Centrino chipset and an Intel 802.11b wireless solution completed the Centrino package. The first Centrino was honestly a success mainly because of its CPU; it was much better from a power efficiency standpoint than anything else in Intel's arsenal and competed favorable with the best AMD offered in notebooks at the time.
Almost 16 months later, in July 2004, Intel updated Carmel with support for its second generation Centrino CPU, codenamed Dothan. Dothan added a larger cache and introduced a number of architectural fixes that couldn't be included in time for Banias' launch the previous year. Dothan didn't shatter performance expectations as Banias did, but performance did go up thanks to the minor improvements here and there. The Centrino platform as a whole eventually got an update with Sonoma, which combined Dothan with a new chipset and 802.11g wireless.
Next up was Napa, which was the most revolutionary change to Centrino that we had seen since its introduction. The first dual core notebook platform from Intel, Napa amazingly enough offered better performance than its predecessor at no detriment to battery life. You got twice the cores, but under the same workload battery life didn't go down. Napa was eventually updated to support the latest Core 2 Duo processors, but it launched with the Yonah based Core Duo CPUs. As the first dual core Centrino, Napa introduced us to the Centrino Duo name.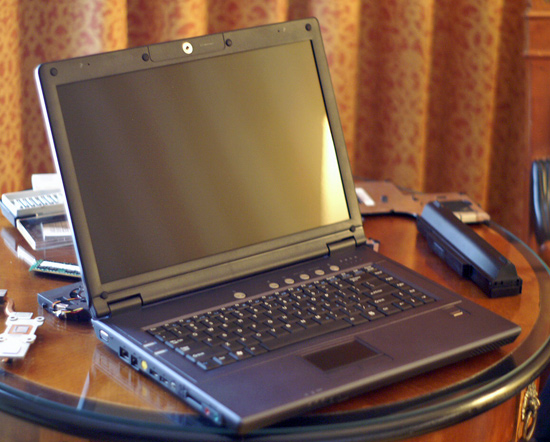 Today is the official launch of the new Centrino, and just by following history we can expect Santa Rosa to be an evolutionary improvement akin to what we saw with the Carmel -> Sonoma transition. We're also getting the impression that despite the delays, availability is still not up to par with previous Centrino platforms. We contacted all of the usual suspects for their new Santa Rosa based designs but have yet to see any in house. While we've been promised that many are coming, this article will have to serve as more of a preview than a review given that we've only been able to test a single Santa Rosa platform and as you will soon see, it was not without flaws.
As with previous Centrino platforms, if the OEM building the system buys all of the right components (CPU, chipset, wireless adapter) then it gets to call its notebook a Centrino system. More specifically, with the Core 2 Duo processors, the platform name OEMs get to use is Intel Centrino Duo. There's another moniker that can be used, which is Intel Centrino Pro, however this one is reserved for systems targeted at the business environment where Intel vPro technology is implemented. The hardware requirements for Centrino Duo and Centrino Pro are the same, the only difference being whether or not vPro is supported.
Later this year, Santa Rosa will be updated to support Penryn based mobile CPUs much like Napa was updated in the middle of its life cycle to support Merom, albeit launching with support only for Yonah. Santa Rosa will be replaced in about a year by Montevina, which will add WiMAX support among other things.