Gaming Performance
Given that we were running under Windows Vista, we only focused on DirectX gaming performance due to the current state of OpenGL performance in the new OS. All of our game benchmarks are 32-bit.
First up is Oblivion, where we benchmarked a timed FRAPS run through of a savegame within the Bruma town gates. Oblivion has just as many CPU bound situations as it does GPU bound situations, this benchmark is merely one of the CPU bound cases. We tested Oblivion with the 1.1 patch and the game's default Very High quality settings, which can still be CPU bound with an 8800 GTX at 1600 x 1200: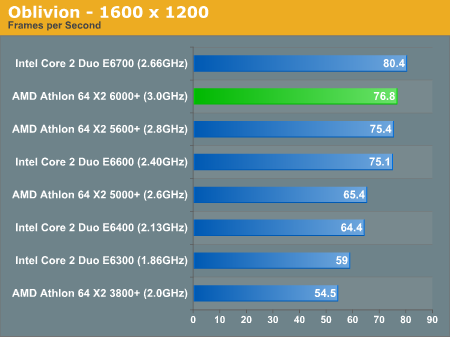 Oblivion performance is actually pretty close between the two processor families. Although the E6700 is a bit faster than the X2 6000+, the 5600+ offers the same performance as the E6600. And the X2 5000+ is virtually tied with the E6400 - you can't go wrong with either processor here.
We measured performance in Half Life 2: Episode One using a custom recorded timedemo, the same benchmark we've used in previous reviews. All quality settings were set to their highest values except for AA and AF which remained disabled.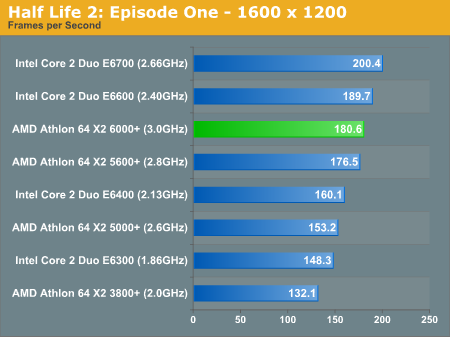 Half Life 2 has been a bit more at home with Intel's Core 2 architecture than AMD's Athlon 64 X2, although both CPUs are more than fast enough to run the game Intel is technically faster at the sort of calculations that the Source engine requires of a CPU.
Company of Heroes is a RTS by Relic and actually makes good use of multi-core CPUs. All of the games quality settings were set to their highest values, except for AA which was disabled. We tested at 1024 x 768 in order to run at a more CPU bound configuration. We benchmarked the game with its 1.04 patch, using its built-in performance test and reported average frame rate: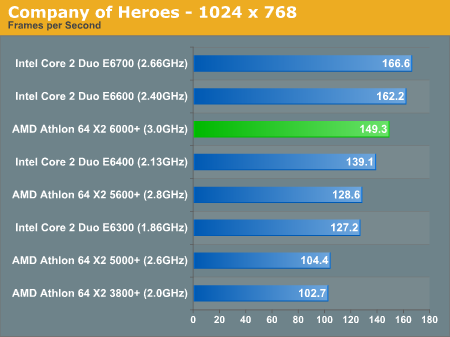 CoH gave us some very odd results, seemingly favoring larger L2 caches over increases in clock speed. Intel manages to take the lead here as well.
Finally we have Battlefield 2 performance, using in game High quality settings and the same benchmark we've used in previous reviews: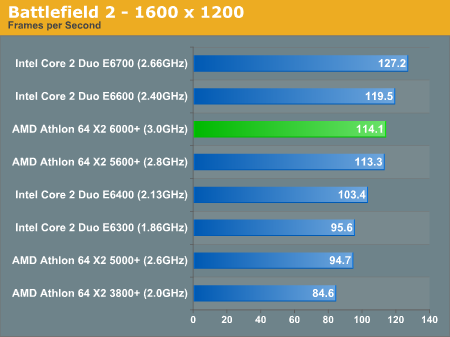 Battlefield 2 echoes what we've seen elsewhere, although the Intel performance advantage has shrunk to only 11% in the case of the E6700 vs. 6000+.