ReadyBoost
Of course, not all systems have the luxury of large amounts of excess RAM, which brings us to another way of manipulating the cache hierarchy to extract better performance: inserting another level. Between expensive-and-fast RAM and cheap-but-slow hard drives, flash memory has quickly developed over the last decade as a storage medium that balances speed and size between hard drives and RAM - it's cheaper than RAM in similar quantities while still being an order of magnitude faster to
access
than a hard drive. ReadyBoost is Vista's technology to take advantage of flash memory as a new member of the cache hierarchy.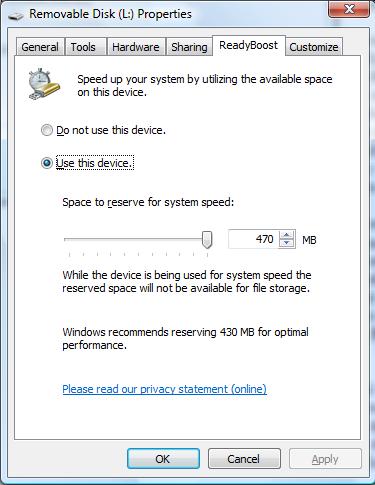 ReadyBoost functions as a compliment to SuperFetch, giving SuperFetch another place to cache data that - while not as good as RAM - is better than just reading data off of the hard drive. An important distinction however is that while RAM is both quick to access and has high transfer rates, flash memory only offers quick access times, with transfer rates below that of even hard drives. As a result ReadyBoost is only useful in situations where small random data accesses are required, whereas larger transfers that may need sequential access are sent directly to the hard drive. This makes ReadyBoost less readily beneficial than SuperFetch, but with USB flash drives going for under $20/gigabyte, it's a cheap and effective way to boost performance of RAM-limited computers in a number of situations.
ReadyBoost also serves as a read cache of the system pagefile, with the idea that swapping to disk is less painful if it's done to a USB flash drive. Don't worry about sensitive data being kept and lost on your USB drive though; the data is compressed and encrypted so that it should be fairly useless once the drive is removed from use.
While there's potential for ReadyBoost to actually reduce performance, if you have a very fast hard drive, Microsoft has done a lot to address this; before a ReadyBoost cache file is created on the flash drive Vista will run a quick series of tests to make sure the drive meets minimum requirements. If the drive fails these tests, you won't be able to use it as a ReadyBoost device. Most new drives will tell you on the packaging whether or not they will work with ReadyBoost. In our testing, ReadyBoost never reduced performance regardless of what hardware it was coupled with.
For all of our tests we used an 8GB Corsair Flash Voyager, but note that the maximum size for a ReadyBoost cache file is 4GB. You can also only use one ReadyBoost device per system, so don't get any crafty ideas of having 8 USB drives plugged in to improve performance.