ReadyBoost Performance
It almost sounds too good to be true - just plug in a USB drive and you get an instant performance upgrade. At the same time, it sounds a little hard to believe; flash memory is fast, but so are modern day hard drives. While it's true that USB flash drives aren't bad at random I/O, performance with small file sizes isn't exactly anything to brag about.
We spent days trying to test ReadyBoost and come up with benchmarks to truly showcase its real world impact on performance. Although it shouldn't be a surprise to you, ReadyBoost impacts application loading, closing and switching time, but CPU intensive tasks aren't impacted nearly as much. As such, most of our conventional benchmarks, even when running with only 512MB of memory, don't serve as a good benchmark for ReadyBoost. If your system has so little memory that it is swapping to disk while running a single task then you're in trouble, and ReadyBoost isn't going to save you.
Our first ReadyBoost benchmark has us encoding a video using Windows Movie Maker and benchmarking the completion time.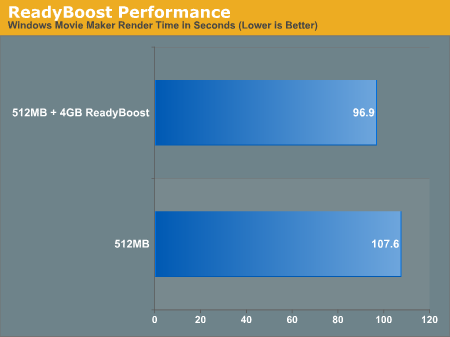 This is one of those cases where ReadyBoost isn't given the chance to do much as the task we're running is mostly CPU bound.
Another example of a situation where ReadyBoost isn't able to do much is in one of Intel's Vista benchmarks - a Microsoft Word 2007 document compare test. This test simply takes two documents and compares them, generating a third document created from the differences between the two documents. The test has an I/O element to it as it is reading large Word documents from the hard drive in order to compare them.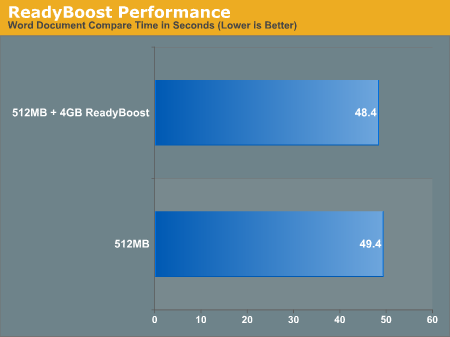 Once again there's virtually no performance difference that can be attributed to ReadyBoost.
This next test is pretty simple, we started Adobe Photoshop CS3 and timed how long it took for the application to start and finish loading 14 images.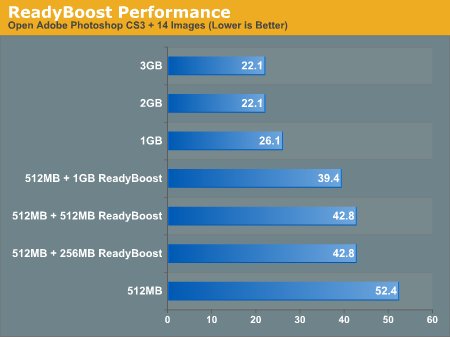 ReadyBoost does increase performance, cutting down the load time by around 13 seconds. In this particular test the performance impact of ReadyBoost levels off once you have around 1GB of flash memory. The real point to take away however is the performance benefit you get from ReadyBoost: even with 4GB of ReadyBoost storage, it is nowhere near what you get from simply moving to 1GB of memory.
We then looked at how long it took to close Photoshop/images with the various configurations: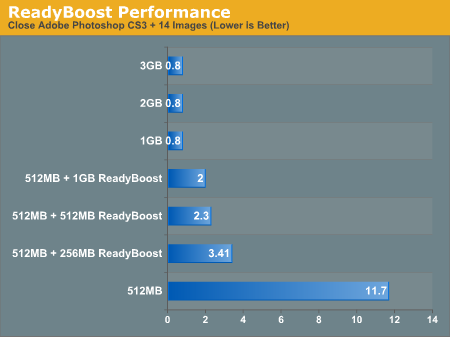 There's a pretty sizable performance impact due to ReadyBoost, but once again, you can't beat simply having more system memory.
Our final ReadyBoost test was a bit more strenuous: we opened Adobe Photoshop CS3 along with 22 images, iTunes, Microsoft Word 2007, Adobe Reader 8 and an Explorer Window. We then timed how long it would take to simply close all of those windows and get back to the desktop. The results are below.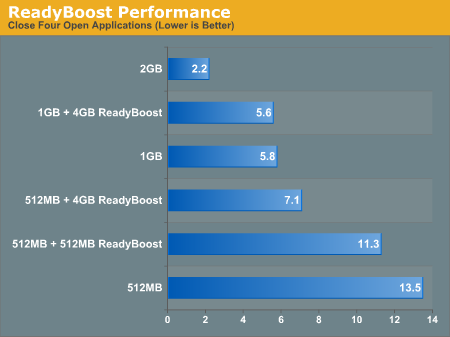 ReadyBoost makes a very significant impact on performance here. With 4GB of flash dedicated to ReadyBoost, we saw an increase in performance of over 47%. However for the cost of a 4GB flash drive you could probably upgrade to 1GB of memory which results in an even larger performance gain. That said, if you don't want to open up your system, ReadyBoost does actually work.