Corsair seems determined to hold the record for the highest memory speed in production memory. We recently reviewed the highest speed memory available at the time in
Corsair Dominator DDR2-1111
(PC2-8888). Several other memory makers tried to match or surpass the Corsair speed record and Corsair responded with PC2-10000 (DDR2-1250) which was first demonstrated at CES earlier this month. A few short weeks after CES we have production PC2-10000 fresh from Corsair for testing.
To put memory speed in perspective, consider a few facts. Core 2 Duo provides synchronous support for DDR2-533, which is the DDR (double data rate) match to the base Core 2 Duo bus of 266. The 266 is quad pumped so the "real" processor bus speed is 1067. Intel Core 2 Duo chipsets support faster memory speeds as well - DDR2-667, DDR2-800, and DDR2-1066. AM2 also supports memory speeds to DDR2-800, but the AM2 controller does not support DDR2-1066 at this time.
In a world where you rarely find DDR2 memory rated at even DDR2-1067, Corsair Dominator DDR2-1250 is a very fast speed rating. Considering that many of our readers are searching for good value DDR2-800 when building a new system, the PC2-10000 sounds like it is worlds ahead of anything available. In some ways it is, but it should also be asked what compromises were made to reach this new speed rating?
Where the Corsair PC2-8888 is rated at 4-4-4 timings at DDR2-1111, Dominator 1250 is rated at a higher 5-5-5 latency at its specified 1250 speed. In addition, Corsair was very clear that this PC2-10000 performed best on the NVIDIA 680i chipset. Boards based on the 680i, like the EVGA 680i SLI and the ASUS P5N32-E SLI Plus, certainly have the headroom to support DDR2-1250, but they are also very expensive motherboards. Corsair also told us, just before publishing the review, that new P965 boards designed for massive overclocking, like the ASUS Commando, have been reported to support PC2-10000 at the rated speed.

Corsair PC2-10000 is the new top dog in the Dominator series - a name used for the highest speed memories produced by Corsair. As you can see from the chart below, the Dominator family has grown rapidly, and now includes six high-performance kits.
Some of the kits, including the DDR2-1250 being tested, come standard with a Corsair designed cooling fan. The memory cooling fan attaches to the locking clips of the memory slots.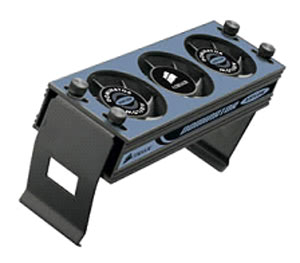 For Dominator kits without the fan, the Dominator Airflow fan kit is available for about $20. The Corsair fan kit also works well with any high-performance memory you choose to install. It is highly recommended for cooling any memory you choose to use in your system.
OCZ Flex 9200 and Corsair Dominator 8800 both approached high performance with an eye to lower latency as well as speed. Dominator 10000 appears to aim for the highest speed with relaxed latencies. Which approach works best? Is the new Dominator 10000 the fastest memory tested so far? Where does the DDR2-1250 Dominator fit in the high performance memory arena? These are questions we will try to answer in benchmarking Corsair Dominator XMS2-10000.