Test Setup and Benchmarks
Our selection of motherboards fully supports the current range of socket 775 Intel processors. We chose an E6300 for testing as we feel this will be a very popular Core 2 Duo CPU choice with the P965 motherboards.
Standard Test Bed
Performance Test Configuration
Processor:
Intel Core 2 Duo E6300
Dual Core, 1.86GHz, 2MB Unified Cache
1066FSB, 7x Multiplier
RAM:
GeIL PC2-6400 800MHz Plus (2x1GB - GX22GB6400PDC)
(Micron Memory Chips)
Hard Drive:
Seagate 320GB 7200RPM SATA2 16MB Buffer
System Platform Drivers:
Intel - 8.1.1.1010
Video Cards:
1 x MSI X1950XTX
Video Drivers:
ATI Catalyst 6.11
CPU Cooling:
Scythe Infinity
Power Supply:
OCZ GameXStream 700W
Optical Drive:
Sony 18X AW-Q170A-B2
Case:
Cooler Master CM Stacker 830
Operating System:
Windows XP Professional SP2
.
A 2GB memory configuration is now standard in the AT test bed as most enthusiasts are currently purchasing this amount of memory. Our choice of DDR2-800 memory from GeIL offered a very wide range of memory settings during our stock and overclocked test runs. Our memory timings are set based upon determining the best memory bandwidth via our test application results.
We are utilizing the MSI X1950XTX video card to ensure our 1280x1024 resolutions are not completely GPU bound for our motherboard test results. We did find in testing that applying a 4xAA/8xAF setting in most of today's latest games created a situation where the performance of the system starts becoming GPU limited. Our video tests are run at 1280x1024 resolution for this recap article at standard settings.
Synthetic and Application Performance
We are presenting an abbreviated test suite to quickly recap the performance of our review group and to show the impact of the overclocking improvements upon memory performance, general applications, and a couple of games. We will utilize SiSoft Sandra 2007 for the Buffered and Unbuffered memory scores; SuperPi 1.5 1M, Nero Recode 2 utilizing Office Space DVD conversion, and WinRAR 3.61 along with our custom 602MB directory test for general reference scores. Full test results can be found in our
P965 motherboard or Core 2 Duo buyer's guide articles
.
Our Quake game benchmark utilizes the IdNetDemo demo recording. This includes mainly outdoor areas with numerous players trying to eliminate each other. We tested the game with High Quality settings (uncompressed normal maps), and we enabled all the advanced graphics options except for VSync. This game is sensitive to memory latency changes and is a good indicator of how memory settings can affect the performance of certain games.
Our Battlefield 2 benchmark utilizes our in-house recording based on the 1.3 release. This recording includes numerous players and vehicles battling it out on the Daqing Oilfield map. We tested the game with High Quality settings enabled. We have found this game to be sensitive to both CPU and GPU changes. Since our GPU remains constant we will see the effects of our FSB overclocking along with memory latency changes on the final score.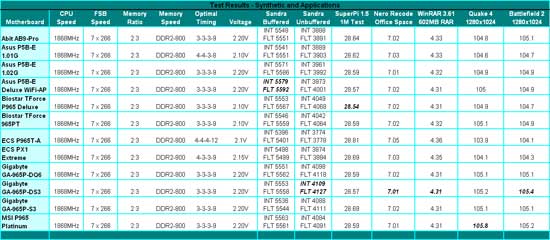 Click to enlarge
At stock speeds the Gigabyte GA-965P-DS3 motherboard posts the best Sandra Unbuffered scores and claims the top Nero Recode, WinRAR, and Battlefield 2 scores; it also remains near the top of the categories. The MSI P965 Platinum had the top Quake 4 score while the ASUS P5B-Deluxe WiFi Edition takes the top Sandra Buffered score and the Biostar T-Force P965 Deluxe finishes with the best SuperPI 1M score. Honestly, all of the scores are so close that you would need specific benchmarks to differentiate the boards in daily use.
At stock speeds, any board choice out of this group would be fine for daily use. In subjective terms after testing each board at least 300 hours and in general use we found the Gigabyte GA-965P-DS3 and MSI P965 Platinum boards seemed to "feel" the fastest and had a general snappy behavior with most applications. The ASUS P5B-Deluxe WiFi-AP had the best overall features and after the latest BIOS and sound card driver updates was a board that we used continuously in both gaming and general application work when not testing.
The Biostar TForce 965PT was the surprise of the group from both a performance and cost viewpoint. After the latest BIOS update we found most of the quirky 4:5 memory ratio issues that limited overclocking have been resolved although at times we still ran into problems. It seems as if at one point or another each of our boards has had problems with 4:5 memory ratios (or continues to have them), especially during overclocking. We are starting to wonder if this is just a BIOS tuning issue or if it goes deeper. We will have to see how well the next generation of P965 boards handles this memory ratio in testing.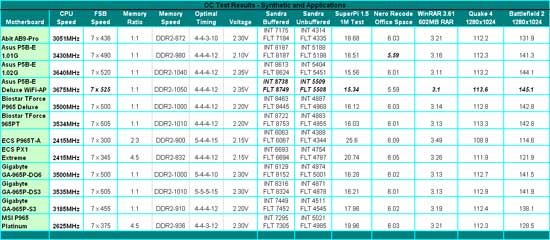 Click to enlarge
In our overclocking tests the ASUS P5B-Deluxe WiFi-AP was absolutely superb and clearly offers the best overall performance. In additional testing we have taken our sample up to 545FSB while retaining perfect stability. With the latest BIOS releases we found our Gigabyte DQ6 and DS3 boards were both able to reach or exceed the 500FSB level with our Micron D9 based memory while also providing very good stability, at the expense of slightly looser MCH and memory timings.
We just recently received another BIOS update for the Gigabyte GA-965P-S3 that resulted in a final 7x485 overclock. Once again the surprise of the group was the Biostar 965PT as it had exceptional overclocking capabilities for its $105 price tag. We did not expect the ECS boards to overclock very well as this has not been one of their fortes, but we also did not expect them to use the word "Extreme" on the PX1 board to indicate a level of performance that the board not meet. The Foxconn board certainly looked the part and had the right components and BIOS options, but could not live up to its outward appearance - although in the end we found its performance was on-par with its sub $100 price.
The biggest disappointment in the overclocking area was that of the MSI P965 Platinum. We expected a lot from this board in the overclocking arena and it did not deliver, not yet at least. The stock performance was superb and we did reach a 7x415 setting, but due to the memory strap change at 400FSB we found the performance in most instances did not improve upon our reported 7x375 scores. We have a new BIOS to try that should allow 450FSB overclocking and with a price tag of $135 or less, the MSI might yet be the board to have in this price range.