Gigabyte: NVIDIA 680i and 650i coming soon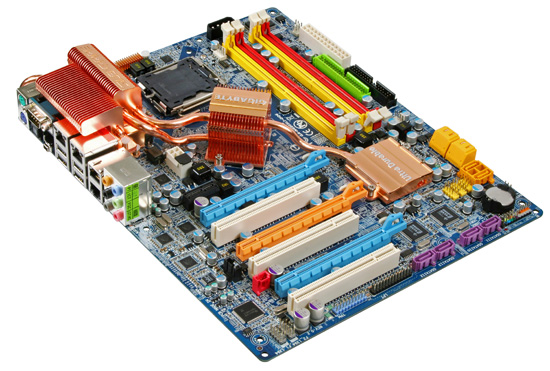 Gigabyte officially announced their GA-N680SLI-DQ6 motherboard that features the NVIDIA 680i chipset with full support for the latest Intel processors and the upcoming 1333FSB units. One of the unusual options on this board is four Gigabit LAN connections that fully support NVIDIA Dual-Net, TCP/IP acceleration, and FirstPacket technologies. The controllers also support the Teaming functionality that enables two sets of 2GB connections to act as a single connection potentially making this board a good choice for a home gateway or game server. The board also features Gigabyte's Quad-Triple Phase system for enhanced power delivery to the CPU. The board includes four e-SATA ports along with Gigabyte's dual BIOS technology. Available is expected shortly, and while pricing has not been set we expect it to be sell in the $250~$300 range.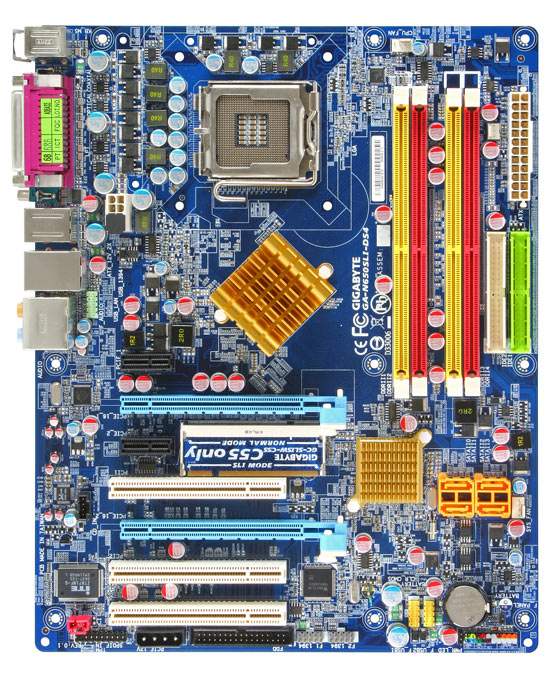 Also due for release shortly is the GA-N650SLI-DS4 motherboard based upon the NVIDIA 650i chipset. This board is designed to compete with the lower end P965 motherboards and features an all solid capacitor design, Gigabit Ethernet, and Realtek HD audio for a price of around $125 or lower.
Memory: Top Speed Wars while DDR2-800 prevails
With the release of DDR3 capable chipsets in late Q3 or possibly Q4 and minimal market penetration until 2009 we fully expect DDR2 to continue as the dominant system memory type for some time. It should to continue to ramp up in speeds while latencies will continue to be improved in the DDR2-800 range. DDR2-800 will likely become the base memory speed this year and for all intents and purposes this speed combined with low latencies offers the best combination of price and performance for the current processor lineups.
However, the bigger news in memory over the coming quarters will be the release of 2GB modules with low latencies. This will benefit those users switching over to Vista as the operating system recommends (and almost requires) additional memory relative to XP. Recommendations for a general user that does a variety of tasks from video editing to gaming will be 2GB, and enthusiasts or heavy gamer will need 4GB in our opinion. The switch to a 64-bit OS and applications will also increase memory requirements, and hopefully this year we will see Windows x64 platforms mature to the point where users can switch without any concerns about driver maturity or other issues.
DDR2 memory isn't the only big topic for memory manufacturers. We continue to see flash memory products increase in both size and speeds as the MLC and SLC technologies continue to mature. Just about everyone has a full lineup of flash products now with packaging, price, or Vista ReadyBoost capability differentiating the supplier's offerings. Let's take a look at some of the memory offerings we saw at the show.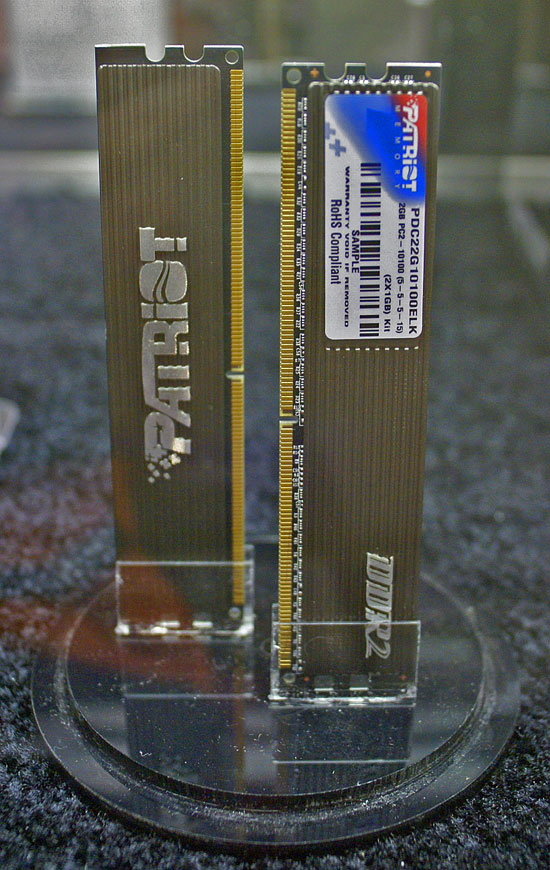 Our first stop was at
Patriot Memory
where they were showing off their new PC2-10100 memory that was released right after Corsair announced their
PC2-10000
. We continue to see the varying memory suppliers competing for the top speed title, but users need to understand these speeds are officially available only on the NVIDIA 680i boards. In our testing we have found the RD600 chipset to offer the same extended memory speeds as the 680i boards. We still believe DDR2-800 memory speeds with low latency timings provide nearly the same or better application performance than the higher latency and memory speeds at significantly less cost.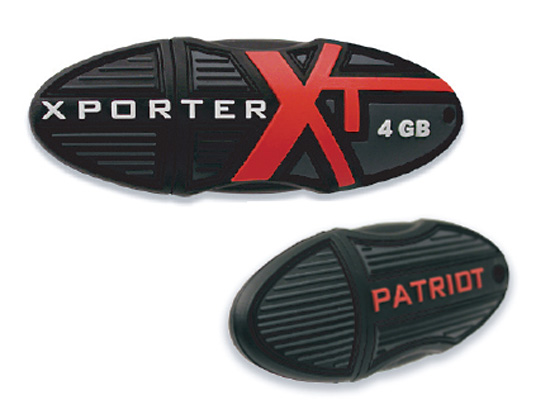 One of the other recent product releases from Patriot Memory was their excellent Xporter XT USB Flash drive that will soon be available in a version 2 offering read speeds up to 39MB per second. Current models are available in capacities up to 4GB.