Benchmark Setup
Our Foxconn motherboard fully supports the current range of socket 775 Intel processors. We chose an E6300 for testing as we feel this will be a very popular Core 2 Duo CPU choice with the P965 motherboards, and particularly with budget priced offerings like this Foxconn board.
Standard Test Bed
Performance Test Configuration
Processor:
Intel Core 2 Duo E6300
Dual Core, 1.86GHz, 2MB Unified Cache
1066FSB, 7x Multiplier
RAM:
Geil PC2-6400 800MHz Plus (2x1GB- GX22GB6400PDC)
(Micron Memory Chips)
Hard Drive:
Seagate 320GB 7200RPM SATA2 16MB Buffer
System Platform Drivers:
Intel - 8.1.1.1010

Video Cards:
1 x MSI X1950XTX
Video Drivers:
ATI Catalyst 6.11
CPU Cooling:
Scythe Infinity
Power Supply:
OCZ GameXstream 700W
Optical Drive:
Sony 18X AW-Q170A-B2
Case:
Cooler Master CM Stacker 830
Motherboards:
Asus P5B-E (Intel P965 C2, 1.01G) - BIOS 0601 - Memory at 2.10V
Asus P5B-E (Intel P965 C2, 1.02G) - BIOS 0601
Asus P5NSLI (NVIDIA 570SLI) - BIOS 0601
Asus P5W-Deluxe (Intel 975X) - BIOS 1407
Abit AB9-Pro (Intel P965 C1) - BIOS 1.5
BioStar T-Force 965 Deluxe (Intel P965 C1) - BIOS
IP96a803
BioStar T-Force 965PT (Intel P965 C1) - BIOS P96CA914BS
FOXCONN P9657AA-8KS2H (Intel P965 C2) - BIOS P32
Gigabyte GA-965P-DS3 (Intel P965 C2) - BIOS F7
Gigabyte GA-965P-S3 (Intel P965 C2) - BIOS F6
Operating System:
Windows XP Professional SP2
.
A 2GB memory configuration is now standard in the AT test bed as most enthusiasts are currently purchasing this amount of memory. Our choice of DDR2-800 memory from GEIL offered a very wide range of memory settings during our stock and overclocked test runs. Our memory timings are set based upon determining the best memory bandwidth via our test application results.
We are utilizing the MSI X1950XTX video card to ensure our 1280x1024 resolutions are not completely GPU bound for our motherboard test results. We did find in testing that applying a 4xAA/8xAF setting in most of today's latest games created a situation where the performance of the system starts becoming GPU limited. Our video tests are run at 1280x1024 resolution for this article at standard settings.
Synthetic Graphics Performance
The 3DMark series of benchmarks developed and provided by Futuremark are among the most widely used tools for benchmark reporting and comparisons. Although the benchmarks are very useful for providing apple to apple comparisons across a broad array of GPU and CPU configurations they are not a substitute for actual application and gaming benchmarks. In this sense we consider the 3DMark benchmarks to be purely synthetic in nature but still valuable for providing consistent measurements of performance.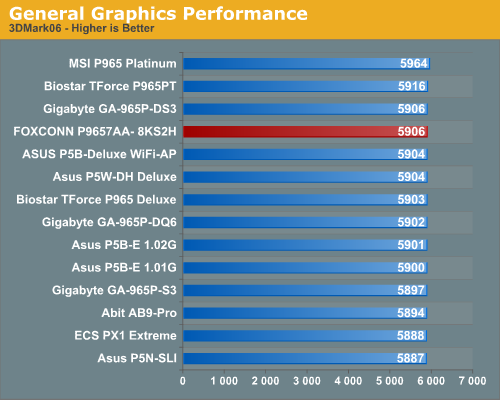 In our first tests, each P965 platform score is so close that there is no real winner here. However, we can see the overall performance of the Foxconn board is very good and scores in the upper third of the boards tested to date. The Foxconn board had no issues looping this benchmark for four hours at stock or overclocked settings.
System Performance
The PCMark05 benchmark developed and provided by Futuremark was designed for determining overall system performance for the typical home computing user. This tool provides both system and component level benchmarking results utilizing subsets of real world applications or programs. The benchmark is useful for providing comparative results across a broad array of Graphics, CPU, Hard Disk, and Memory configurations along with multithreading results. In this sense we consider the PCMark benchmark to be both synthetic and real world in nature while providing consistency in our benchmark results.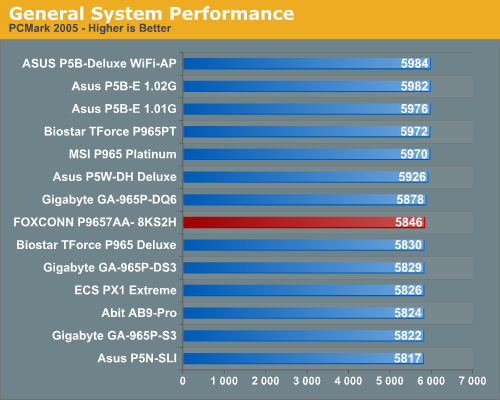 The Intel P965 based ASUS boards typically score significantly better than our other P965 boards in PCMark05 due to the final test which consists of multitasking three different applications. The ASUS P965 boards score up to 58% better in the File Encryption and HDD Virus section of the test with the File Compression result being around 16% better when compared to the Gigabyte and ECS boards. However, we find our Foxconn motherboard scoring slightly better than the Gigabyte, ECS, abit, and Biostar P965 Deluxe boards. We tried the new F8 final BIOS on the Gigabyte DS3 and it scored a 5934. It seems there are a few BIOS optimizations that can help improve the PCMark05 scores; whether these optimizations truly improve overall system performance or are merely to help with a few specific benchmarks is not yet known.