Sparkle GeForce 8800 GTX
Sparkle sent us two cards, one based on NVIDIA's reference design and the other with a more exotic cooling system in place.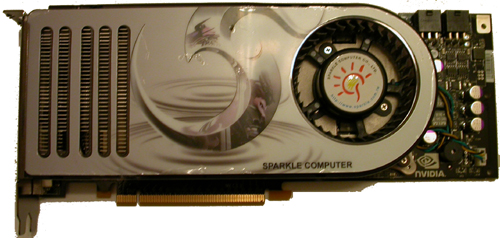 First we have the reference 8800 GTX from Sparkle. The card looks no different from NVIDIA's reference 8800 GTX aside from a few Sparkle graphics on the heatsink. Keep in mind that even though many of the 8800 GTXs look nearly the same, each manufacturer puts their own modifications in the card's BIOS, which affect things like fan speeds and power consumption. These modifications will also affect how well each of these cards overclock, which we will look at in the next section.
Sparkle Calibre 8800 GTX
For those of you who don't want to be seen with a regular 8800 GTX, Sparkle has what you've been looking for. Sparkle has been getting attention lately with its new Calibre line of graphics cards, which make some pretty radical changes in card and HSF designs, and their Calibre 8800 GTX is no exception. The Sparkle Calibre 8800 GTX departs dramatically from the reference design through the use of two cooling fans and a peltier cooling element.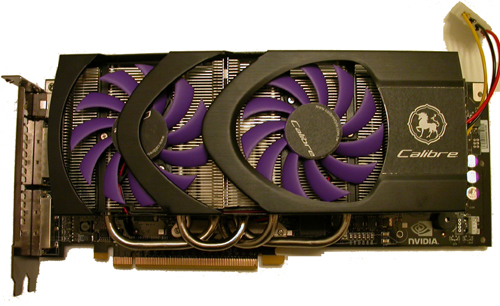 The two fans on the card are used to cool the thermo-electric element, which in turn cools the GPU. The card not only has the standard two PCIe power connectors, but it also has a 4-pin power connector just to power the peltier element. Because of this extra power requirement, we'll see higher power consumption from this card than the others, but as our tests will show, the peltier cooler makes the card run very cool during stressful operation.