Valve Hardware Day 2006
Last week Valve Software invited us up to their headquarters in Bellevue Washington for their Hardware Day event. Valve usually has some pretty interesting stuff to show off, and they are one of several companies that consistently push the boundaries of what your computer hardware can do. As creator of the Half-Life series, Valve is one of the most respected gaming software companies around. Their Steam distribution network has also garnered quite a bit of attention over the years. Last year, the big news was the new HDR rendering that Valve added to their Source engine. So what has Valve been up to for the past year, and how will it affect the future of gaming?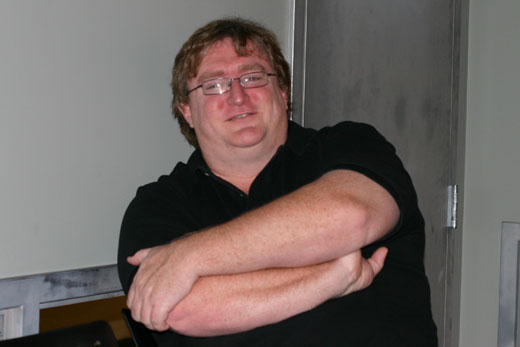 The man himself, Gabe Newell
Some of you may recall some of the statements Valve Software founder Gabe Newell made in regards to the
next generation platforms
and the move towards
multi-processor systems
. The short summary is that creating efficient and powerful multithreaded code is extremely difficult, and there's a very real possibility that developers will need to throw away a lot of their existing code base. Both of these things are drawbacks for creating multithreaded games, but there are also important benefits. Perhaps the most important advantage is that if you need additional processing power in the near future, you are much more likely to get it by tapping into the power of multiple processors rather than waiting for clock speeds to increase.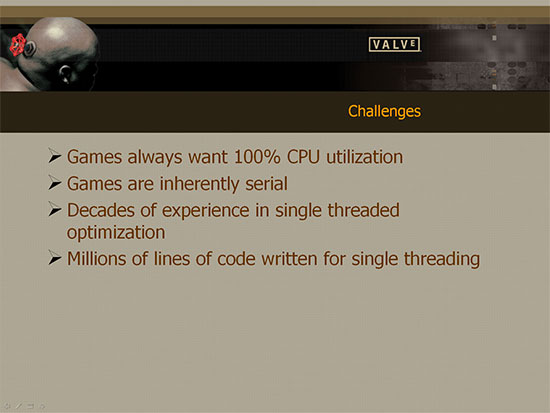 While it is listed as a challenge, one of the points made by Valve is that computer games are typically designed to make maximum use of your system. "You're doing a disservice to the customer if you're not using all of the CPU power." Some might disagree with that sentiment, but at some point the choice has to be made between a game that looks better and/or performs faster and one that uses less computational resources. Then there's a secondary consideration: do you want to make a computer game that merely takes advantage of additional processing cores to enhance the gaming experience, or should a multi-core CPU be required? There are still a large number of single core processors in use today, and many of those people might be unhappy if they were forced to upgrade.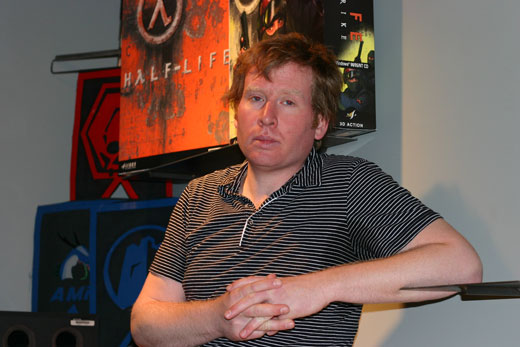 Tom Leonard, Multithreading Project Lead
The costs and challenges associated with creating multithreaded games help to explain why the previous gaming support for multiple processors has been limited at best, but with all of the major processor vendors moving towards multi-core chips, the installed user base has finally become large enough that it makes sense to invest the time and effort into creating a powerful multithreaded gaming engine. Valve Software set out to do exactly that over the past year. The efforts have been spearheaded by Valve programmer Tom Leonard, whose past experience includes work on C++ compilers, system utilities, and artificial intelligence among other things. Other Valve employees that have helped include Jay Stelly, Aaron Seeler, Brian Jacobson, Erik Johnson, and Gabe Newell.
Perhaps the most surprising thing is how much has been accomplished in such a relatively short time, and Valve Software provided the attendees with a couple benchmark applications to demonstrate the power of multi-core systems. Before we get to the actual performance of these utilities, however, let's take a look at what multithreading actually means, the various approaches that can be taken, and the areas that stand to benefit the most. There are of course many ways to accomplish any given task, but for this article we are primarily concerned with Valve's approach to multithreading and what it means to the gaming community.