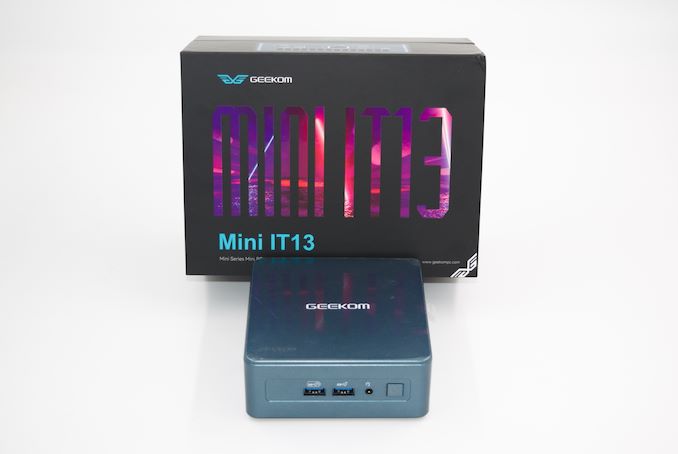 The performance of ultra-compact form-factor (UCFF) desktops has improved significantly since the introduction of the Intel NUC in the early 2010s. In addition to advancements in semiconductor fabrication and processor architecture, thermal solutions suitable for these 4in. x 4in. machines have also been evolving simultaneously. As a result, vendors have been able to configure higher sustained power limits for the processors in these systems. From the 17W TDP processor used in the first-generation 4x4 NUC, the form-factor moved on to 28W in the late 2010s. The processors in the latest flagship 4x4 NUCs are configured with a 40W sustained power limit.
Intel and AMD have been officially allowing configurable TDPs for their notebook segment offerings for a few years now. This has prompted some vendors to introduce UCFF systems with regular 45W TDP processors (albeit, in cTDP-down mode). GEEKOM became one of the first vendors to release a Core i9-based UCFF machines with the launch of the Mini IT13. Based on paper specifications, this high-end Raptor Lake-H (RPL-H) UCFF desktop is meant to give the mainstream RPL-P NUCs stiff competition in both performance and price.
GEEKOM sent over the flagship configuration - a Mini IT13 equipped with a Core i9-13900H, a 2TB SSD and 32GB of DRAM - to put through our evaluation routine for small form-factor computing systems. This review explores the performance profile and value proposition of the system, along with analysis of the tradeoffs involved in cramming a 45W TDP processor into a 4x4 machine.
Introduction and Product Impressions
The days of bulky desktops are getting numbered for many use-cases, with small form-factor (SFF) systems replacing them. The rapid growth in this segment has led to the rise of many Asian vendors focusing on these systems. GEEKOM is a private label brand of Shenzhen Jiteng Network Technology Co., Ltd. - an OEM / ODM for small form-factor computing systems. The company manufactures both Intel and AMD-based systems. The private label started off with a few entry-level systems (such as the MiniAir 11) , but has since branched out to introduce machines with leading-edge processors. The company had announced the Raptor Lake-H-based Mini IT13 within a few days of the launch of the SimplyNUC Onyx. While the Onyx is still in the pre-order stage, GEEKOM has been selling the Mini IT13 for a few weeks now.
GEEKOM sent over the flagship Mini IT13 configuration for review. The Intel Core i8-13900H processor in the Mini IT13 review system has a six performance cores and eight efficiency cores for a total of 20 threads. Compared to the RPL-P processors used in the flagship mainstream 4x4 NUCs, this RPL-H processor has two extra performance cores and a higher maximum turbo frequency (up to 5.4 GHz, against RPL-P's maximum 5.0 GHz). The processor is fabricated in the Intel 7 process.
GEEKOM's package for the Mini IT13 is spartan - the main unit is accompanied by a welcome card, VESA mount with associated screws, an installation guide, HDMI cable, and a 120W (19V @ 6.32A) AC adapter with a geo-specific power cord.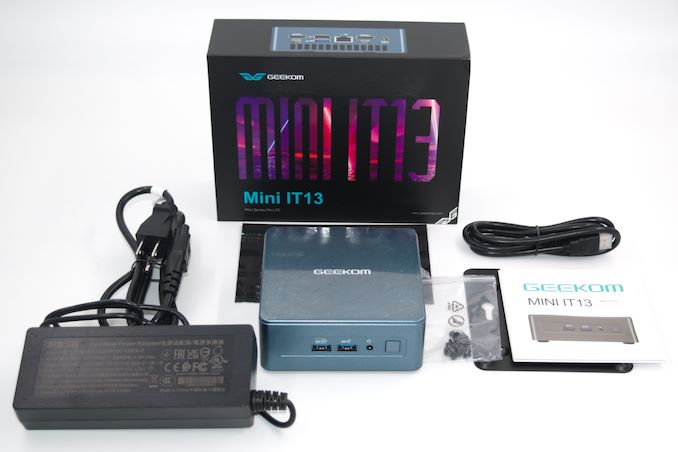 The main unit clocks in at 117mm x 112mm x 49.2mm, with a weight of 652g. The system is sized to accept a 2.5" drive, and that makes it comparable to the full-height mainstream NUCs such as the NUC13ANHi7 Arena Canyon SKU measuring 117mm x 112mm x 54mm. The larger dimensions allow for a wider variety of ports in the systems compared to regular NUCs.
GEEKOM does not sell barebones versions of the Mini IT13. A SSD, DRAM, and a pre-installed copy of Windows 11 Pro are also provided. In keeping with the premium nature of the Core i8-13900H, the configuration with that CPU includes a 2TB SSD and 32GB of RAM.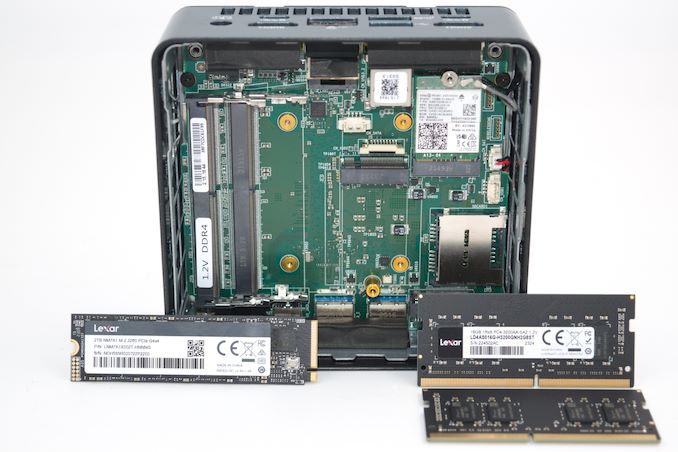 Unlike the GEEKOM AS6, the board and chassis design are fairly straightforward and similar to the NUCs.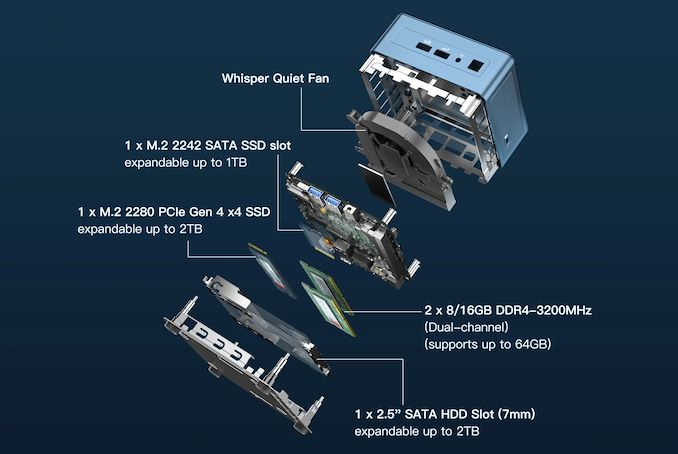 The DDR4 SODIMM slots and the Gen4 x4 M.2 SSD slots on the motherboard are pre-populated in the GEEKOM configurations. The WLAN / BT module interfaces with the CPU over CNVi and is under the NVMe SSD slot (similar to the mainstream NUCs). There is a metal frame that is built around the 2.5" drive slot, and a thermal pad is affixed to it to provide heat transfer support from the M.2 2280 NVMe SSD. Our review configuration was equipped with 2x Lexar LD4AS016G-3200ST DDR4-3200 SODIMMs and a Lexar SSD NM7A1 Gen4 x4 M.2 2280 NVMe SSD. Windows 11 Professional came pre-installed.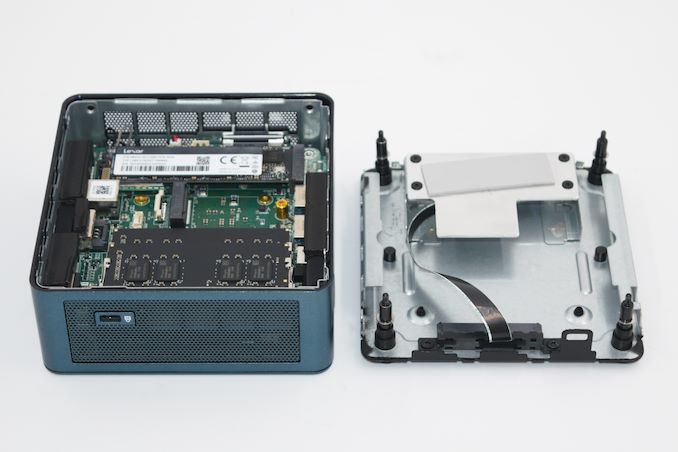 The full specifications of the review sample (as tested) are summarized in the table below. The Core i9-13900H has a TDP of 45W, and a minimum power (cTDP-down) of 35W. As we shall see in our BIOS options analysis and detailed investigation into the thermal characteristics in a later section, the form-factor of the system and the notebook-style thermal solution restricts the operation of the processor in a 35W cTDP mode.
GEEKOM Mini IT13 Specifications
(as tested)
Processor
Intel Core i9-13900H
Raptor Lake (6P + 8E)/20T, up to 5.4 GHz
Intel 7, 24MB L2, 45W
(PL1 = 35W, PL2 = 80W)
Memory
Lexar LD4AS016G-3200ST DDR4-3200 SODIMM
22-22-22-52 @ 3200 MHz
2x16 GB
Graphics
Intel Iris Xe Graphics
(80 EUs @ 300 - 1500 MHz)
Disk Drive(s)
Lexar SSD NM7A1
(2000 GB; M.2 2280 PCIe 4.0 x4 NVMe;)
(176L Micron 3D TLC?; Maxio MAP1602 Controller)
Networking
1x 2.5 GbE RJ-45 (Intel I225-V)
Intel Wi-Fi 6E AX211 (2x2 802.11ax ~ 2.4 Gbps)
Audio
Digital Audio with Bitstreaming Support over HDMI and USB4 Ports
Front panel audio combo jack via Realtek ALC269
Video
2x DP 2.0 (1.4 certified / 8Kp30) (via USB4 Type-C in the rear)
2x HDMI 2.0 (up to 4Kp60) (rear)
Miscellaneous I/O Ports
2x USB4 (Type-C / 40 Gbps) (Rear)
1x USB 3.2 Gen 2 Type-A (Rear)
1x USB 2.0 Type-A (Rear)
2x USB 3.2 Gen 2 Type-A (Front)
1x SDXC UHS-II Card Reader (Side)
Operating System
Windows 11 Enterprise (22000.2416)
Pricing
(Street Pricing on Sep 29th, 2023)
US $899 (as configured, w/OS)
(USD 859 with $40 off coupon code D9ZAYQNX)
US $789 (as configured, w/OS, GEEKOM web store)
(USD 749 with $40 off coupon code anandtech40)
Full Specifications
GEEKOM Mini IT13 Specifications
The next section details the the various BIOS options and follows it up with a detailed platform analysis.